Fall sports start Monday with midnight practices in Tonganoxie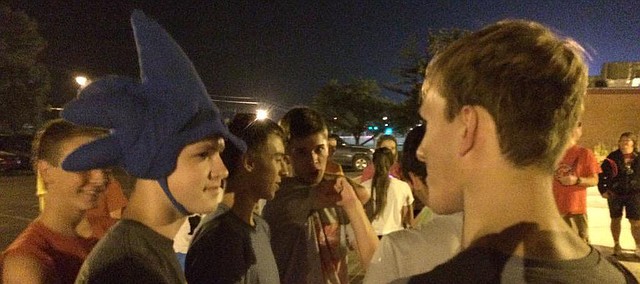 And so it begins.
One of the first signs that summer vacation is drawing to a close is the start of fall sports season.
KSHSAA teams can begin practice Monday.
And, as has been customary in Tonganoxie in recent years, Tonganoxie High teams won't be wasting any time, as teams will start their first practice at midnight Monday morning. For the THS cross country team, the season will start gathering at the high school and then going for a run around town. Parents and other volunteers post up along the route to make it a safe route in case there is traffic. And of course, the runners will be hitting the pavement in the dark.
Monday starts the 2017 season for THS cross country, football, soccer and volleyball, as does it for McLouth cross country, football and volleyball.
THS also could have another team competing this fall, depending on a vote at tonight's school board meeting. Board members will decide whether to approve adding girls golf to the list of Tonganoxie High sports offerings.
The new season also brings changes for THS boys soccer and volleyball.
Jon Orndorff takes over as the new boys soccer coach, replacing Brian Kroll, who stepped down earlier this year after nine years with the program he was an assistant in 2008 and 2009 before taking over as head coach in 2010. Kroll led the 2012 team to the state championship match. It marked the first time a Tonganoxie team played in a state championship game or match.
Orndorff will look to build on Kroll's success this fall. He comes to Tonganoxie after serving as head coach at Maranatha Christian Academy in Shawnee.
For the first time in 16 years, Tiffany Parker won't be on the sideline for THS volleyball matches. Parker stepped down last year after a successful career that included several substate championships and three state tournament appearances.
In those 16 seasons, Parker compiled a record of 310-228 and had three state tournament appearances, four seasons of 30 victories or more and nine seasons of 25 victories or more against just three losing seasons.
Her successor, however, is no stranger to Parker's program. In fact, she was part of it.
THS graduate Christina Jeannin returns to take over for her former coach.
Mainstays Al Troyer and John Tollefson, meanwhile, begin another season for THS football and cross country, respectively. Both are looking at loaded rosters returning for the fall.
As Tonganoxie says hello to two new coaches, it will be bidding farewell to some familiar opponents.
This is the final season of the Kaw Valley League, as current member Bishop Ward will head to the Crossroads League starting with the 2018-19 school year, reducing the league to six teams — Basehor-Linwood, Bonner Springs, Lansing, Piper, Turner and Tonganoxie.
De Soto currently is a member of the Frontier League. Next year, KVL members Tonganoxie, Piper and Bonner Springs will join current Frontier League members Baldwin, Eudora, Louisburg, Ottawa, Paola and Spring Hill to make that conference a nine-team league.
THS will have its Red/White scrimmages Aug. 24. In the past, the scrimmages have taken place on Friday, but they will be on a Thursday this year. THS season openers are: soccer Aug. 24 at home against Baldwin, volleyball Aug. 29 home against Lansing, football Sept. 1 at Spring Hill and cross country Sept. 9 at Wamego.
The Wamego Invitational is the first meet of the season and takes place at Wamego Country Club. The golf course also is the longtime home to state cross country.