City approves slight mill jump;
USD

464 proposal slightly down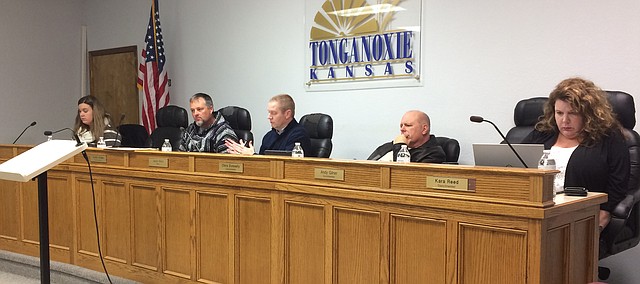 Tonganoxie's mill levy will have a slight increase for 2018.
The Tonganoxie City Council had its budget hearing Monday before adoption of the 2018 budget, which carries a mill rate of 45.144.
That's a slight jump from the 2017 rate of 44.84 and nearly a 1-mill increase from 2016's rate of 44.179.
No residents spoke during the public hearing. The council then voted to give final approval to make the budget official.
The Tonganoxie school board had a special meeting Wednesday in the Tonganoxie Elementary School library to give initial approval to its 2017-18 budget. The board approved it, 6-0, with Dan Hopkins absent. Philip Welsh voted from another location via speakerphone call on a cell phone.
Interim Superintendent Tonya Phillips said the overall proposed mill levy rate is similar to the current year. The previous levy was 60.398, while the proposed levy is slightly less at 60.393.
If the board approves the budget tonight, it will be published twice in The Mirror's legals section.
A budget hearing then will take place for patrons at an upcoming board meeting.
Highlights of the city budget are:
• Tax levy for all city funds remains flat; the library employee benefits fund tax levy increased 0.301 mills.
• A 3 percent increase to water and sewer rates.
• Stormwater fee of $1.50 for residential customers and $3.00 for commercial customers.
• Merit increases for all full-time employees.
• Revised compensation plan that would give some employees one-time adjustments to be brought up to the minimum in their new pay range.
• Continued funding of the plan developed in 2017 to prepare for the County Road 1 balloon payment in 2019.
Budget requests
These departmental budget requests were included in the 2018 budget:
• Municipal Court and Building Permits Software ($10,000)
• Citizen's Academy ($2,000)
• Fire department increase to medical supplies ($5,000)
• Fire department increase to part-time salaries ($10,000)
• New fire engine pumper ($550,000)
• Police reclassification of sergeant to lieutenant ($11,000)
• New police vehicle ($33,000)
• Public works dump truck with plow ($100,000)
• Public works additional street maintenance funding ($150,000)
• Public works sewer plant maintenance budget increase ($18,000)
• Public works variable frequency drive and monitoring system ($22,000)
• Public works swimming pool maintenance budget increase ($10,000)
• Public works replacement of 2005 truck ($30,000)
• Public works water tower inspection/painting ($40,000)
• Public works sewer line rehab program ($60,000)
• Merit increases for all departments ($83,630)