Tonganoxie High one of top
FCCLA

chapters at national event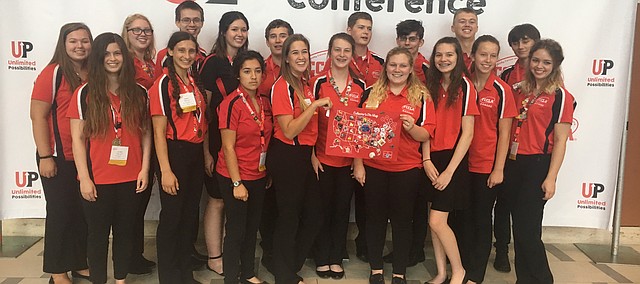 The Tonganoxie High School Family, Career and Community Leaders of America chapter proved to be one of the top chapters in the nation this year.
THS won several awards July 2-6 at the National Leadership Conference in Nashville, Tenn.
Senior divisions are for FCCLA members in sophomore through senior classes. The junior division is for FCCLA members in sixth grade through freshman year of high school.
Tonganoxie won gold in parliamentary law. The team of Grace Woods, Nate Bothwell, Jack Crow, Anahi Puebla, Ethan Sandburg, Dasha Frank and Sierra Staatz also on gold in the Focus on Children category.
Adam DeMaranville, Blake Phillips and Ahren Gann won senior gold in Digital Stories for Change, while Lauren Lawson and Payton Lynn won junior gold in Digital Stories for Change.
In Interpersonal Communication, Shawna Kirk and Maureen Wetta won senior silver, while Emma Rawlings, Emilie Crowley and Meghan Agnew won Interpersonal Communication junior gold.
Other winners were Erin Colacicco, who won senior silver in Teach and Train and Emilee Agnew and Annalise Colacicco, who won senior gold for Focus on Children.
Also assisting on the national level this summer was 2016 THS graduate Emma DeMaranville, who worked as an intern this summer at the FCCLA headquarters in Reston, Va., just outside Washington, DC.
FBLA at nationals
THS Future Business Leaders of America members Aaron Grant, Ahren Gann and Adam DeMaranville represented the school at the FBLA Leadership Conference from June 30-July 2 in Anaheim, Calif. The members competed in Banking and Fincancial Systems.