Eyes toward skies in Tonganoxie, across nation as folks await rare solar eclipse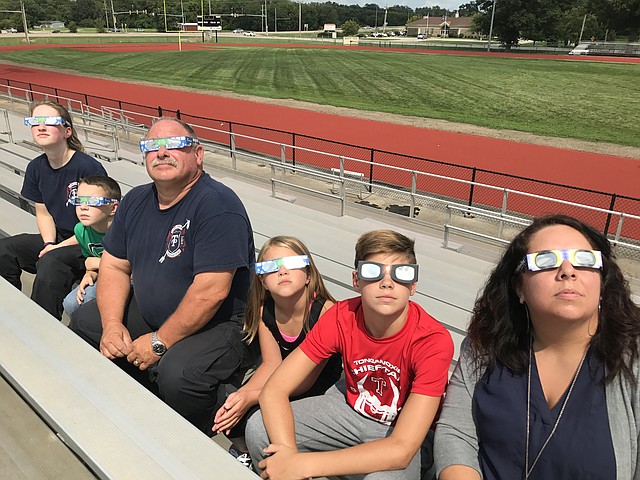 Umbraphiles have been waiting decades to witness Monday's anticipated spectacular totality.
Translation: Super solar eclipse enthusiasts are quite eager to see Monday's much ballyhooed solar eclipse.
From coast to coast, Americans are abuzz with solar eclipse talk, which makes sense if you think about the frequency of such an event.
According to Tonganoxie High School teacher Matt Beat, on average, a total solar eclipse occurs in one location every 375 years, while other spots might go thousands of years between solar eclipses.
Beat, who has a YouTube channel with many educational videos, just released a new video about solar eclipses. He also gives a rundown of lunar eclipses while throwing out a list of fun facts, including that folks addicted to solar eclipses are umbraphiles.
By all accounts, many are becoming avid astrologists, even if it is for a day. Local convenience stores, grocery stores and other shops have sold out of glasses. Basehor Community Library has sold out, while Tonganoxie Public Library received another batch Monday after also running out, library director Nicole Holifield said late Monday.
From Oregon to South Carolina, the eclipse will follow a 67-mile path of totality as the moon passes between the earth and the sun, turning day into night for up to almost three minutes.
It's the first solar eclipse in the contiguous United States since 1979 and first that can be seen coast to coast since 1918.
According to vox.com, a partial solar eclipse, obscuring 99.8 percent of the sun, can be seen in Tonganoxie with a peak time of 1:07 p.m. For a total eclipse, travel 9 miles northeast, the website showed.
THS science teacher Shawn Phillips doesn't want to rain on any eclipse parades, but there is a chance the whole event will be disrupted if it's cloudy that day.
Weather.com currently is calling for a high of 87 degrees and all sun with a 10-percent chance for precipitation.
Fingers crossed for perfect weather, but how is this eclipse happening?
As Phillips explained it, the moon's orbit always goes around the Earth, but the moon has "a bit of a wobble to it" in that orbit.
"Sometimes that wobble will cause it to pass directly between the Earth and sun," he said.
There also must be in the new moon phase, which it happens to be for Monday's anticipated event.
On the flip side, Phillips said it will be pretty dark Monday night because the moon won't be out that night.
Though Tonganoxie isn't in the totality path, Phillips still contends it should be an experience.
"I think it still will be pretty impressive," he said.
The big thing to watch for will be the significant difference in the amount of sunlight when the eclipse occurs, he said.
Tonganoxie Middle School science teacher Michael Bush said Monday that teachers were trying to figure out this week how to incorporate the eclipse into lesson plans.
The timing isn't the best with school starting today, but Bush anticipates there will be activities Monday. Phillips said there likely would be different events happening school-by-school.
The one constant for Tonganoxie USD 464 students is eyewear.
Interim Superintendent Tonya Phillips said all district students will be given a pair of eclipse glasses.
Safety first
While excitement is building as Monday approaches, people planning to look at the sun need to keep four things in mind, according to the American Optometric Association website, aoa.org.
• Use approved solar eclipse viewers. The only safe way to view a partially eclipsed sun is through special-purpose solar filters, such as "eclipse glasses" or viewers that meet international standard ISO 12312-2 for safe viewing. Sunglasses, smoked glass, unfiltered telescopes or magnifiers, and polarizing filters are unsafe. If you can't find eclipse viewers, build a pinhole projector to watch the eclipse. Look on the inside of the eclipse glasses whether they meet the ISO standard mentioned above.
• Technique of the pros. Before looking at the sun, cover your eyes with the eclipse viewers while standing still. Glance at the sun, turn away and then remove your filter. Do not remove the filter while looking at the sun.
• Totality awesome. Only within the path of totality-and once the moon completely blocks the sun-can eclipse viewers safely be removed to view totality. Once the sun begins reappearing, however, viewers must be replaced.
• Visit your doctor of optometry. If you should experience discomfort or vision problems following the eclipse, visit your local doctor of optometry for a comprehensive eye examination.

Quite the view
Barbara Anthony-Twarog, a professor of physics and astronomy at the University of Kansas, like Phillips, noted that the experience will be all for not if it's overcast or rainy. But if the elements are favorble — get ready.
"If you're in the path of totality, it's not just better or longer — it's actually really different," Anthony-Twarog said. "If it's totally eclipsed, it is a unique experience. There will be people who will go to extraordinary lengths to get somewhere in the path of totality."
At the onset of the eclipse, temperatures will begin to drop, stars will begin to appear in the sky, and the natural world (birds suddenly stop chirping, for example) falls out of its normal routine.
"It's going to be like a long twilight starting at 11:40 or so, and getting a little bit darker and darker," Anthony-Twarog says, "And half the sun will be covered by 12:30."
Anthony-Twarog isn't sure, but she thinks we might be able to see planets as the sky gets darker. She's fairly certain that folks viewing the total eclipse will be able to see Venus and possibly Mars.
Tourist time
Marysville, near the Nebraska border in the north central part of the state, is having a community breakfast that day.
Even the town's black squirrel statues, an ode to a unique type of squirrel prevalent there, are donning "eclipse glasses" in anticipation of the big day.
In Tonganoxie, Brothers Market is offering eclipse cakes and T-shirts, while It's a Sweet Treat Day Bakery also is hoping to celebrate with some decorative goodies.
There's also viewing opportunities in the area, such as Path of Totality in Leavenworth, Total Eclipse in the Parks in Johnson County, Total Eclipse Watch Party in the City Market of Kansas City, Mo., and the big one — 2017 Total Solar Eclipse in St. Joseph, Mo.
The closer to the center line of the eclipse path, the longer the total eclipse lasts. The longest duration anywhere in the U.S. is 2 minutes, 40 seconds; Kansas clocks in with 2 minutes, 38 seconds of near total darkness in Doniphan County, which borders Missouri and St. Joseph.
"This hasn't happened in Kansas since 1918," says Adrienne Korson, Doniphan County economic development director. "We've had astronomers tell us it's like winning the lottery to be on the eclipse's central line of totality."
­­Leavenworth County Undersheriff Jim Sherley said local enforcement is prepared for Monday, but currently isn't anticipating major traffic or parking issues in Leavenworth. He said the "meeting focus" continues to center around St. Joe.
For more about the eclipse, visit tonganoxiemirror.com. And be sure to share your photos and accounts of Monday's eclipse on social media using he hashtag #tonganoxieclipse.