Tonganoxie teams get early start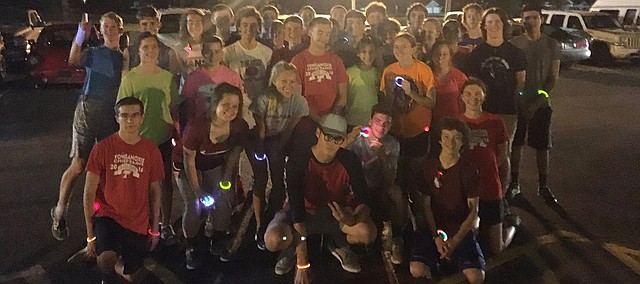 The early birds were out and about Monday morning.
Tonganoxie High opened the fall season with 12:01 a.m. practices Monday, continuing a tradition that the THS cross country team started several years ago.
THS cross country coach John Tollefson said he was excited for his team to get the season started.
Though THS lost some quality runners, including Drew Cook and Connor Kietzmann on the boys side and Emily Chambers on the girls side, both teams have a strong nucleus back after last year's big state performance. Both teams finished fifth at state, Tonganoxie's highest finish by both teams in a single season since since 1989. Cook also placed 10th individually.
Again, the Chieftains have plenty of talent returning.
Tollefson noted three members of the girls team, Mia Bond, Sierra Staatz and Alyssa Scott have competed at state all three years heading into their senior campaign.
"We've got some strong returning upperclassmen," Tollefson said.
He also pointed at a strong boys freshman class last year returning for their sophomore season.
THS has 33 runners out this year — eight seniors, 11 juniors, four sophomores and 10 freshmen.
As the teams look to make another state run, they will do so with a slightly different schedule.
The Red/White scrimmage is the morning of Aug. 26, which is a week from Saturday. They also have some meets that fall on Saturdays. Normally most of Tonganoxie's meets traditionally have been on weekdays aside from regionals, state and the invitational at Rim Rock Farm, home course for University of Kansas cross country.
Tonganoxie opens the season Sept. 2 with the Lansing dual.
While the midnight run is old hat for Tonganoxie cross country, it was the first year the THS soccer team practiced — on a baseball field.
Unable to use Chieftain Park because the grass isn't ready for play or the THS soccer complex because it's without lights, the team headed to the fairgrounds for the first practice of the season. It also was the first practice under new coach John Orndorff, who came to Tonganoxie from Maranatha Christian Academy in Shawnee.
Christina Jeannin had her first practice as coach of her alma mater early Monday morning at the THS gymnasium. Jeannin leads the volleyball team, following her former coach Tiffany Parker, who stepped down after more than 15 years.
Meanwhile, Beatty Field was illuminated early Monday for the first football practice.
Boys soccer, football and volleyball will have scrimmages Aug. 24.