FAST

times at Tonganoxie's Chieftain Park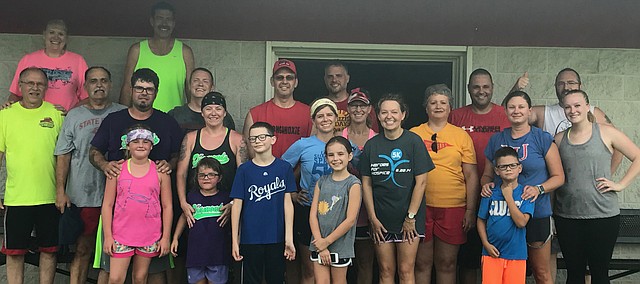 A core group of people again are getting active on Sunday nights at Chieftain Park.
The latest session of Families Actively Strengthening Tonganoxie started Aug. 6, averaging 20 people the first two workouts.
Tonganoxie Recreation Commission again has organized the workout program, which again is getting financial assistance through a Lawrence Memorial Hospital Endowment Association grant. FAST started in 2015 as a way to promote fitness for all families.
The newest session will run through Oct. 1. Participants just need to sign up on the first night joining the program and then initial the sheet ager to indicate they were there for future sessions.
Workouts start at 6 p.m. and usually last about an hour. Residents might bring a water bottle and a mat or towel, as some workouts are done on the ground. Participants sometimes head across the street to the Beatty Field track also.
TRC assistant director Brad Eccles said participants who attend four Sundays will receive a T-shirt. They also are eligible to win a bicycle from Cycle Works in Lawrence. Eccles said the business gave TRC "a good deal" on the bike to use as a grand prize for FAST.
"They do a little bit and then run to the playground and then hang out with mom and dad and do a few things," Eccles said about younger participants. "They try to incorporate some games sometimes."
Of course, both children and adults get into the games.
Free State Fitness trainers helped in leading workouts for many sessions in the past, and now participants are leading the workouts. Jake and Amy Dale have led their fellow workout friends so far this session. Eccles said participants use "exercises volunteers have collected and want to share" on Sunday nights.
"It's volunteer-ran," he said.
This past year FAST had three different sessions. For 2017, there have been two sessions, but they've been longer, Eccles said.
As Eccles reiterated, people are welcome to join the workouts regardless of their personal exercise levels and abilities. Workout participants can exercise at the pace that works for them.
"I'm excited to get the season going again," Eccles said.