New Tonganoxie High track open to runners, walkers for now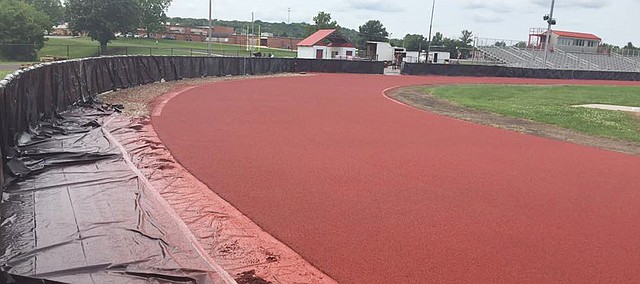 Patrons are now free to walk on the new track at Beatty Field.
Tonya Phillips, interim USD 464 superintendent, told the board at Monday's regular school board meeting that work on the track is finished other than painting lane lines and other markings. Until then, visitors can walk and run on the renovated track, which now is red.
Fisher Track is doing the renovations to the Beatty Field track. The Tonganoxie school board approved in March a $160,000 bid from the Iowa company to complete the upgrade, which consisted of some alterations to the area of the track, as it was determined it previously wasn't the exact 1,600-meter distance for all lanes. The high jump area also was resurfaced as part of the project, as were long jump, triple jump and pole vault runways west of the stadium.
The new track has an asphalt base and a top Poly Mat 5K layer, a polyurethane rubber substance.
Tonganoxie High School and Tonganoxie Middle School home meets either were canceled or moved elsewhere this past spring so that work could begin early on the track.
The track project, though, didn't get into full swing until after the school year ended.
Interim Superintendent Tonya Phillips said that after Fisher laid the asphalt, some additional drainage issues were discovered.
"It was necessary to wait after each rain to mark the spots that needed additional work," Phillips said. "This took place over several weeks. Next, we identified that the grass infield needed to be graded around the border of the track to allow for better drainage."
The grading has been completed and has been followed up by reseeding and finishing work.
As Phillips mentioned, the track should be ready in the near future, weather permitting.
"It has been a longer process than we anticipated, but making sure it is done correctly is more important than a quick fix," she said.
The track renovations are finishing up as school officials kick around the idea of installing artificial turf. THS principal Mark Farrar spoke to the school board at its last regular meeting in July. A turf company also gave a presentation. USD 464 officials are weighing their options as many neighboring schools have gone to artificial turf. If there were turf, the soccer team also would use Beatty Field, as it has bounced back and forth between Chieftain Park and the complex south of the THS west campus building. That field is a converted junior high football field, while Chieftain Park's field had to be reseeded and won't be ready for the fall season.
Farrar expressed the need for the soccer team to have a quality field, as the west campus field is subpar, he said.