Pathways transition program opening today in former Tonganoxie police station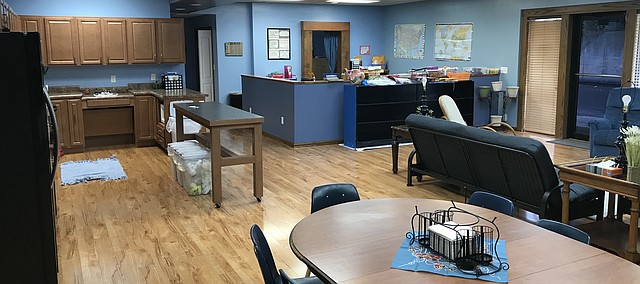 More activity is coming to downtown Tonganoxie.
Pathways, a new transition program for for graduates 18-21 years of age is set to open today in the former Tonganoxie Police station at 328 S. Delaware.
The program, offered through the Tonganoxie Basehor-Linwood Special Education Cooperative, provides community based instruction to Basehor-Linwood and Tonganoxie high school students who received special education services during high school.
"Our mission at Pathways is to provide a transition program for young adults ages 18-21 who have graduated high school yet have daily living, social and/or vocational needs that require supported real-world experiences within a community setting that will allow them reach their postsecondary goals," said Pathways teacher Shannon Long.
The former police station has taken a much different and more open look. The apartment-like Pathways has an open layout with blue walls. There's a kitchen area, dining table and living room area as part of its amenities.
There will be an open house from 1-2 p.m. Aug. 25. Cake and punch will be served.
There also will be a Chamber of Commerce coffee at 8 a.m. Sept. 14.
Long said Pathways will open with eight graduates Thursday. It will be open 8:30 a.m.-2:30 p.m. and will follow Basehor-Linwood USD 458's calendar.
The graduates also will be making various items that will start to go on sale this fall. In fact, there will be a sidewalk bag sale from 12:30 p.m.-2:30 p.m. Sept. 1 at Pathways.
Transition coordinator Mary Beth Nelson also will be at Pathways part of the time. Long said two paraprofessionals will complete the staff.