Remember When: A Community Review for Aug. 16, 2017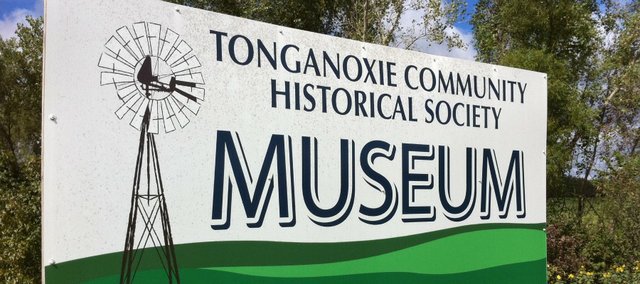 10 years ago: Aug. 15, 2007
Tonganoxie skate boarders can rejoice as they get one step closer to getting a new skate park. At Monday night's City Council meeting, the council unanimously voted to accept the proposed 2008 budget, which included $100,000 for the construction of a new skate park. Several patrons spoke in favor of the skate park.
Plans to relocate a local fixture of the downtown area are back in motion, leaving some wondering what will be the future of Fourth Street. After two years on hold, the funding has been approved for the construction of a new post office.
25 years ago: Aug. 19, 1992
The Leavenworth County Fair's first horse-pulling contest in two years drew an enthusiastic, spirited crowd on a cool Saturday afternoon. Tom Nickels from Kingsley, Mo., pulled the top weight of 9,300 pounds. His team weighed in at 3,280 pounds.
Danielle Boatwright will travel to Biloxi, Mississippi this month to compete for the MISS TEEN USA pageant's all-new "Most Beautiful Eyes" title. The competition is sponsored by the Contact Lens Council to raise awareness of vision care during August, which is National Eye Exam Month.
50 years ago: Aug. 17, 1967
The 41st Leavenworth County Fair is front page news, listing Parade Float winners and first night attendance exceeding prior records. The Mirror also reported planning is in the works for increased land and buildings at the fairgrounds.
The increased number of black top roads from Tonganoxie to other towns was cited as proof of the development of a real Leavenworth County highway system to support continued growth.
This week's paper was filled with additional large ads related to the farm economy that included wheat, alfalfa, fertilizer and fuel. There was even an ad from the United States Brewers Association on the $4 billion industry's $215 million of ag purchases!
Tonganoxie High is considering changing the football field to run east and west and transfer the summer baseball activities to a new lighted field at the fairgrounds. 
75 years ago: Aug. 16, 1942
The August weather has turned unusually cool this year with ample rain falling. Looks like our corn crop will be saved and fat hogs will go to market. Best corn crop since 1928.
Our men and women in service are sending greetings from across the ocean. Many of our young soldiers and sailors have landed in England and parts east. We do note that some of our fighting folk remain stateside, but for how long remains to be seen.
The start of school is just around the corner. Make sure you get those school clothes cleaned and give your children a good start and they will enjoy their learning so much more.  
Mr. and Mrs. Ray Cronemeyer and little son Jack attended the fiftieth wedding anniversary celebration for Mr. and Mrs. FW Cronemeyer. The couple was married in Chillicothe, Mo., and have lived here all of their married lives.
And beginning their married life are Martha Duncanson and Fred Leimkuhler, who will tie the knot later this month. Congratulations will be in order for the newlyweds.
100 years ago: Aug 16, 1917
Thos. Chandler and family moved back here from Lawrence last Friday and are occupying their home in the north part of town.
A feather bed, 6 pillows, 2 comforts and other articles were lost between here and Lawrence last Friday. Finder will notify Thos. Chandler and receive reward.
The tower used in hoisting cement in building the big concrete elevator at the mill, was demolished Tuesday. Two of the guys were loosened and a pull given on one of the others to bring it over. Quite a crowd gathered to witness it, but the fall of the tower was not spectacular.
Fount Huffman is taking his annual fifteen days of vacation as rural carrier. His son Doster is handing out the mail.
The bigger picture shows in the nearby towns have raised their prices and the minimum admission is now 15 cents.
125 years ago: Aug. 18, 1892
Last week an item appeared in these columns to the effect that the barn of Modest Pouppirt, of Hoge, had been struck by lightning and burned to the ground. The barn, however, was not struck by lightning but is supposed to have been set on fire. The incendiary, it is thought climbed on to the manger, and applied the match to some hay near the hole above. Frank Pouppirt was sleeping but a few feet away in the hay when the fire started, and the light awakened him. He tried to extinguish the fire by tramping on it, but only succeeded in burning his feet. The barn was in ashes and a granary adjoining it went also, consuming 120 bushels of oats and 75 of wheat.
There is very strong circumstantial evidence against a man who resided near Hoge for a year and moved away last week. Cards were issued Tuesday offering a reward for his arrest. The man supposed to have done the deed is bound for Kingfisher, Ok. Mr. Pouppirt says he can prove by reputable witnesses that the man wanted has frequently threatened to burn him out, and that he was seen going toward Hoge the night of the fire although he had already started on his journey. Twenty-five dollars are offered for his capture.
(The Aug. 25 edition of the paper reports: The man suspected of setting fire to the barn of Modest Pouppirt, Aug. 9 was arrested in Augusta, Butler county, Sunday morning. His name is D. S. France. He was brought to Leavenworth yesterday)