Cornerstone Family Worship closer to new home's completion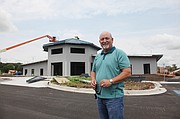 What started out as a vision along U.S. Highway 24-40 continues to inch closer to a completed picture. It just happens to have a different landscape along the highway.
Cornerstone Family Worship previously had plans to build on 26 acres east of Tonganoxie near 198th Street and U.S. 24-40. But then came the opportunity to purchase 11 acres inside the city limits. The initial plan was on the south side of the road; the current site to the north.
A 21,000-square-foot structure continues to take shape along the U.S. 24-40 curve in Tonganoxie. A blue-roofed building with light gray walls stands before a completed parking lot, the yellow stripes already down.
The home stretch comes with continuing the work inside the building.
Strickland Construction is building the structure, while folks from U.S. Mission America Placement Service are handling some of the inside work. MAPS is affiliated with the Assembly of God denomination. Cornerstone's pastor, the Rev. Ron Swaim, is an ordained minister with Assemblies of God.
He said five couples, two from Missouri, one from Nebraska, one from Valley Falls and another a Cornerstone couple from Kansas City, Kan., are working on the church through MAPS.
"Their people are just great people," Swaim said. "They do a good job with it."
Swaim said the church is expected to be finished by November, though he has hopes for October.
"I keep saying August, so we'll see how it goes," Swaim said with a smile.
When finished, the church will have a sanctuary, kitchen, coffee bar, small library area and nine classrooms.
Swaim said the configuration will be much like Sacred Heart Catholic Church, in that the main hall will be multipurpose. It will be used for worship services, meals and other events.
Cornerstone currently has its offices, along with Wednesday and Thursday functions, at The Jewel building at Fourth and Main streets. Sunday services still take place at the Tonganoxie Performing Arts Center on the Tonganoxie High School campus.
When finished, the sanctuary is expected to hold nearly 500 people. The congregation currently is about 400 strong, with the average service drawing about 200 each Sunday.
The church has access from both U.S. 24-40 and Smiley Road. A new storage building stands west of the church. There is a semicircle drop-off area at the main entrance, which will be covered. In fact, a structure connected to the church will stretch out to cover that lane, as well as the area right in front of the church.
The building certainly has changed the landscape in that area.
"I appreciate how the community has encouraged this and supported it … there were a few who didn't like the idea, but a lot of people are happy to have it be here," Swaim said.
And, of course, he hopes his congregation can move in as soon as possible.
"We're just exited to get in there," he said.