Pathways to have open house Friday in Tonganoxie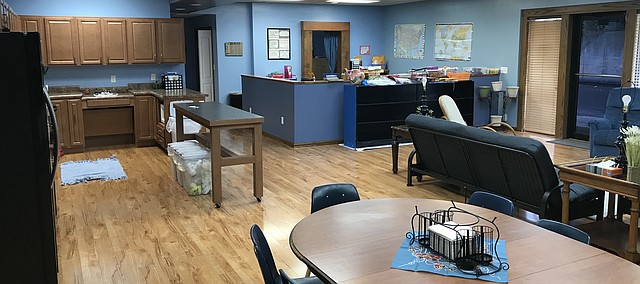 The new Pathways learning center is ready to showcase its students in the coming weeks.
Pathways is a new transition program for graduates 18-21 years of age. It opened this past Thursday in the former Tonganoxie Police station at 328 S. Delaware.
To celebrate the new tenant in the downtown district, the Tonganoxie Chamber of Commerce will have a ribbon cutting ceremony. It's part of an open house from 1-2 p.m. Friday at the center. Cake and punch will be served.
The program, offered through the Tonganoxie Basehor-Linwood Special Education Cooperative, provides community based instruction to Basehor-Linwood and Tonganoxie high school students who received special education services during high school.
"Our mission at Pathways is to provide a transition program for young adults ages 18-21 who have graduated high school yet have daily living, social and/or vocational needs that require supported real-world experiences within a community setting that will allow them to reach their postsecondary goals," said Pathways teacher Shannon Long.
The former police station has taken a much different and more open look. The apartment-like Pathways has an open layout with blue walls. There's a kitchen area, dining table and living room area as part of its amenities.
Long said Pathways has eight graduates currently in the program. The center is open 8:30 a.m.-2:30 p.m. and follows the Basehor-Linwood USD 458 calendar.
Friday's open house will provide a sneak peek at some of the crafts students are working on. Those crafts will be for sale during a sidewalk bag sale 12:30 p.m.-2:30 p.m. Sept. 1 at Pathways.
And, the center will be the host site for a Chamber Coffee at 8 a.m. Sept. 14.
Long said being in the downtown area is a great opportunity for graduates to interact in a community setting and helps graduates "learn how we should behave in public, how we work and navigate surroundings and take care of ourselves," Long said.
Some skills graduates will work to hone are cooking, cleaning, laundry, leisure, community engagement and just going out to dinner, going to the library or a movie, getting around and going to the grocery store.
Graduates also will be working various places in town and potentially could work at additional local businesses in non-paid settings an hour or two at a time.
"We continue to build on that," Long said. "Hopefully to a point where we can get them some sort of paid job they can get to with skills they have."
Transition coordinator Mary Beth Nelson also will be at Pathways part of the time.
Long said two paraprofessionals are completing the staff.