Sunflower Stroll coming to Tonganoxie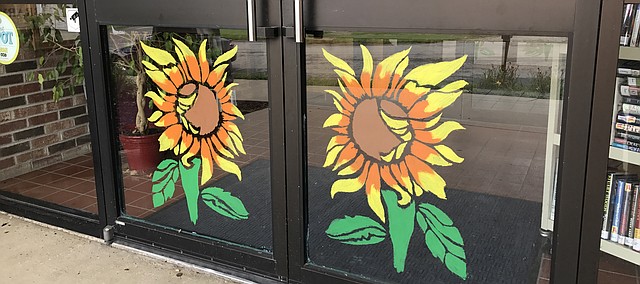 The Sunflower Stroll is coming to Tonganoxie.
Monica Gee with the Tonganoxie Business Association told the City Council on Monday of plans to entice visitors to the Grinter Farms sunflower fields to stop in Tonganoxie after their visit to the global attraction.
Gee said the stroll was an effort to get something started in Tonganoxie around the time sunflowers are in bloom. She hopes the stroll grows into a festival or some time of event as time progresses.
Many downtown business windows are decorated with sunflowers. Other plans call for a crafting area in the former Ratliff Drug Store, sunflowers being painted on sidewalks and eventually, sunflowers on light poles in the downtown area. Some 5,000 brochures will be handed out at Grinter Farms that promote Tonganoxie and provide a listing of restaurant options in town. Coupons to a few businesses also will be included in the brochure as a way to track whether visitors are using the coupons.
"Again, we can expand on it later," Gee said of community plans during future sunflower seasons.
Tonganoxie Split glasses, which TBA sold during the Tonganoxie Sesquicentennial, will be sold during the Sunflower Stroll.
Finally, Gee noted there would be a social media campaign inviting visitors to take pictures in the pocket park at Fourth and Delaware streets.
A picture board will be placed in the park. People are encouraged to take pictures in the park and post them on social media. A winner will be selected from the photos posted on social media.
Mayor Jason Ward piped in during Gee's comments, as he invited anyone to help park vehicles at Grinter Farms on weekends during the viewing season.
According to the Grinter Farms Facebook page, sunflowers are expected to be in bloom later this week on into the following weekend, which is Labor Day Weekend.
Those projections were posted before Monday's heavy rains that carried over into Tuesday.
For updates on sunflower blooms, continue to the Grinter Farms Facebook page.