New Tonganoxie High boys soccer era greets seasoned seniors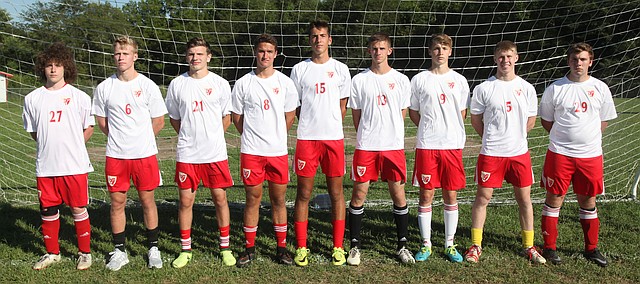 A new era in Tonganoxie High boys soccer got off on the right foot last week.
The Chieftains improved to 1-0 with a 4-2 victory against Baldwin on Friday at the THS soccer complex.
The victory obviously was the first of the year, but also marked the first for coach Jon Orndorff, who replaced longtime THS coach Brian Kroll in the offseason.
Orndorff said he wasn't sure how that first game was going to play out following the preseason, but he was pleased with the results.
"We're better than I expected we were," Orndorff said Monday in the team's locker room following another practice.
With a whopping 11 seniors leading the Chieftains this year, Orndorff has plenty of help in the leadership department.
Orndorff said the seniors are a "great group of guys" and are leaders on the field and on the bench — basically anywhere and everywhere. He said they also help in instructing the younger players. They welcome instruction and respectfully interject with some potential strategies of their own, according to Orndorff.
"I've stepped into an amazing situation," the new coach said about his team's senior class and the team as a whole. "It makes coaching life a lot easier. It's really been a blessing."
Orndorff has a great deal to work with, as there are 39 boys on the squad this season.
Seniors this season are Nathan Feiring, Zeb Huseman, Isaiah Frese, James Breedlove, Bowan Jones, Chandler Caldwell, Jens Ahlen, Gad Huseman and Nathaniel Lewandowski, Jose Monarrez and Joseph Caiharr.
Asked about their new coach and the new season, some of the players admitted it was a bit bumpy simply because the team was transitioning from one coach to another.
With a game under their belt, upperclassmen are ready to keep moving forward in what they hope is a memorable senior campaign.
"Possession has been a vital part of our game," Frese said. "He's really been pushing it."
Breedlove concurred, adding that the team has been "attacking the ball well."
In Friday's match, Ahlen scored two goals and Caldwell a third as THS went into halftime with a 3-0 lead. Frese padded the lead with a penalty kick goal and the Chieftains eventually won, 4-2.
"The work ethic is beyond amazing," Orndorff said.
Tonganoxie's newest coach came to town from Maranatha Christian Academy where he himself was a standout for the Eagles.
Orndorff helped MCA to two state appearances and was an all-state selection as a player. He then played at Point University, an NAIA school in West Point, Ga., where he set a school record for shutouts in a season for a goalkeeper in a season. Orndorff, though, suffered an injury that ended his career.
He stayed with soccer, though, coaching in area recreational leagues and at the club level for FC Kansas City, the local women's professional team. He also was an assistant at his alma mater before becoming serving as head coach the past two season for both boys and girls soccer at Maranatha.
He helped the girls team this past spring to its best record in school history and the first playoff victory for the girls program.
Orndorff is no stranger to Tonganoxie, though. He's married to THS graduate Ashlee (Lohman) Orndorff and had gotten to know Kroll through the years in the coaching ranks. When he learned that Kroll was hanging up the whistle, he decided THS was the right fit for him.
In the first few weeks, Orndorff has done his best to mold his newest program.
The team has a new logo and, as of Monday, new jerseys. Orndorff surprised his team after practice. When players returned to the locker room, they gazed upon new uniforms lined up by their lockers. Teammates excitedly selected their jerseys, threads they donned for the first time Tuesday night at home against Bonner Springs.
Tonganoxie's offense kept clicking against BSHS, as the Chieftains won, 11-4, and improved to 2-0 overall and 1-0 in Kaw Valley League play.
The team continues with another home match Thursday against archrival Basehor-Linwood. The varsity match is at 4:30 p.m. at the THS sports soccer complex.
With more games played, Caldwell looks for the team to keep clicking as the season progresses.
"I'm excited to see what's in store for us," Caldwell said. "I think we can do great things."