Embracing, bracing for Grinter sunflowers near Tonganoxie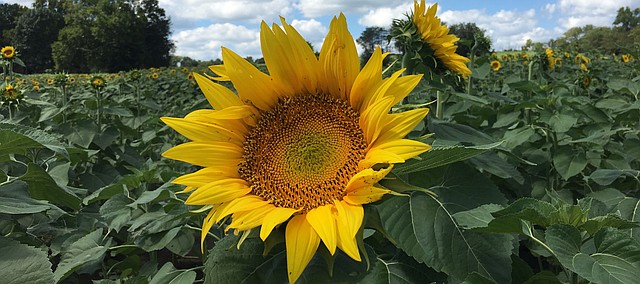 A stretch of U.S. Highway 24-40 has the potential for jubilation and anxiety all wrapped into a couple weekends.
The popular Grinter Farms sunflower fields look to be on schedule for prime viewing Labor Day Weekend and into the following weekend.
With the August weather looking to be mild this year, it's shaping up to be another massive tourism time at Grinter Farms.
Crowds have grown each year, with last year's crowds thought to be pushing some 150,000 for the entire viewing period.
That meant traffic troubles on U.S. 24-40, some fender benders and even message boards on Interstate 70 announcing the fields were closed to visitors for a time.
Leavenworth County officials are looking to improve the situation this year. They look for traffic moves smoother, but it's also hard to plan. Will there be 1,500 visitors or 150,000?
As Leavenworth County Undersheriff Jim Sherley noted, it's a situation in which interstate roads are feeding to two-lane U.S. and state roads that are feeding into a narrow two-lane county road.
The flow is inverted, and as Sherley also pointed out, it's like funneling the capacity of Arrowhead Stadium toward a sunflower field.
So with all of those potential road blocks in mind, Shirley urges visitors to plan ahead and be patient. If visitors are heading to the fields during prime weekend times, they should go early and plan for the potential delays.
The Grinters continue to create parking space in adjoining fields, but the recent rainfall has left them soggy. Kris Grinter said parking availability will depend on how well those fields dry. As of Monday, she warned on the Grinter Farms Facebook page that fields currently were soggy, so early birds should be extra cautious when heading to the fields.
Sunflower stroll
Some blooms already are popping this week. In Tonganoxie, business owners are hoping folks heading to see the blooms will see all of the sunflowers "blooming" in the downtown area. The Tonganoxie Business Association has been sponsoring and encouraging businesses to paint sunflowers in the window for the inaugural Sunflower Stroll. Visitors will be encouraged to draw sunflowers on downtown sidewalks near the pocket park and visit local businesses. A picture board will be in the pocket park. Folks can take photos there for a social media contest. Those photos can be posted on Facebook and Twitter with the hashtag #sunflowerstroll in the coming days. Best photos will be selected as winners of the contest.
Brochures promoting Tonganoxie also will be handed out at Grinter Farms. Signage is planned in hopes more of that traffic checks out Tonganoxie when visiting the fields.
Sunflower General, a store the Grinters opened last year not far from the fields, will be open often during the upcoming prime viewing season.
Other fields popping up
Something that could alleviate Grinter Farms traffic is the influx of other sunflower fields in the state. One has been started south of Lawrence, while another is near Topeka and yet another near Baxter Springs, to name a few.
State agritourism officials encouraged the increase in sunflower planting. Kris Grinter encourages readers who know of other fields to post them on the Grinter Farms Facebook in case visitors want to check out a field that might be closer to them.
It's not that the family doesn't want guests to enjoy the beauty of the sunflower fields, but if it helps alleviate some of that traffic, that can be a plus.
Helpful reminders
Ted and Kris Grinter have fun with their tourist attraction. Kris also has some comic relief with the Grinter Farms Facebook page with a lengthy list of do's and don'ts.
Look on the page for a list of ground rules before heading out to the fields.
As for those traffic concerns, Sherley said a plus is that Kansas Highway 32 will be open this year, a traffic option not available last year because of construction.
However, there's also the narrowed two-lane near the future U.S. Army Reserve Center between Tonganoxie and County Road 1.
To stay updated on all things sunflowers at Grinter Farms and with the Sunflower Stroll, check Grinter Farms and Tonganoxie Business Association Facebook pages regularly.