Still no decision on Tonganoxie
USD

464 superintendent; hirings and resignations approved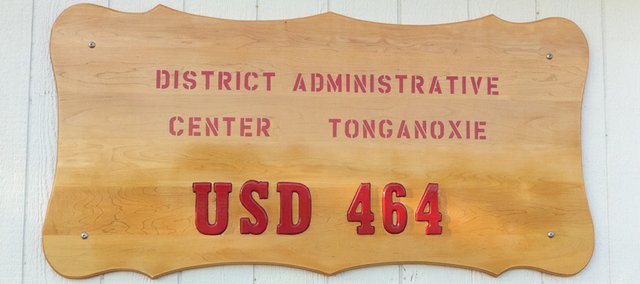 The Tonganoxie USD 464 school board gave final approval to its 2017-18 budget, but members still have not made a decision on the future of Superintendent Chris Kleidosty.
The board met this past Thursday in two special meetings, the first to have a budget hearing and the second to discuss non-elected personnel in executive session. The executive sessions last a total of 90 minutes, but no decisions were made after the board returned to the regular meeting.
Linn County Attorney James Brun recently dropped charges without prejudice against Kleidosty with regards to alleged failure to report sex abuse cases at Kleidosty's former district, Prairie View.
The entire board met in executive session with a lawyer. One board member joined in the closed-door meetings via a conference call, as she was unable to attend in person.
Kleidosty was arrested in February and has been suspended with pay ever since. He has told media outlets previously that he cooperated with law enfacement officials in the cases involving a former Prairie View High School teacher who is alleged to have had sex with two different students while he was a teacher at PVHS. The former PVHS principal also was arrested on the same two counts as Kleidosty.
He since was replaced by the assistant principal as the top PVHS administrator.
It's possible that Brun could file additional charges against Kleidosty at a later date.
Recommendations approved
During the special meeting, the board gave OK's to personnel recommendations.
The board approved resignations from Lindsey Hayden, special education van driver; and Shawn Sivyer, Tonganoxie Elementary School custodian.
Work agreements were approved for Holly Reischman, TES special education interrelated paraprofessional (replacing Debbie Laundy); Dawn Stites, TES special education life skills para (replacing Jamie Metz); Gary Richmond II, THS boys assistant soccer coach (replacing Taryn McClendon); Matthew Thierolf, THS assistant track coach(replacing Ron Nichols); David Barnes, TMS special education interrelated para (replacing Brooke Braswell); Lindsey Hayden, special education van para (replacing Nancy Harr).