Tonganoxie High cross country gears up with Red/White scrimmage; Lansing dual Saturday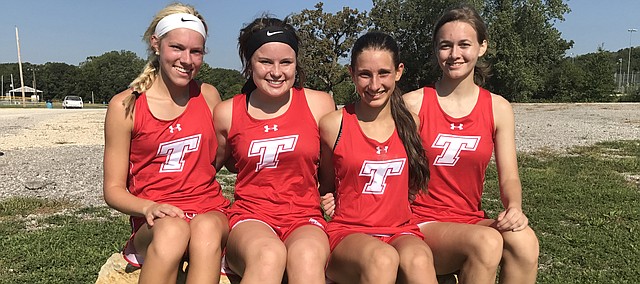 The Tonganoxie High cross country team is ready to build on last year's big finish at state. With both teams finishing in the top 5 in the same year at state — a feat the program hasn't accomplished since the early 1990s — this year looks to be promising on paper. Gone are some top runners to graduation, such as Emily Chambers and Drew Cook.
But John Tollefson's team returns with a loaded senior class on the girls side and a boys team that features solid seniors and up and coming seniors.
Tollefson tried to split up his teams for the Red/White scrimmage this past Saturday at the Leavenworth County Fairgrounds based on individual times in the preseason.
The red team won both races, with the girls score being 24-31 in favor of the red team and the boys 26-29 in favor of the red team.
For the girls race, Sierra Staatz placed first for the Red team with a time of 22 minutes, 41 seconds.
Second was Mia Bond, who finished in 23:07 for the white team.
Third was Alyssa Scott (R, 23:19), fourth Natalie Shephard (R, 24:15) and Erin Williams fifth (W, 24:15).
The rest of the field was Katherine Wombwell (W, 24:22), Kristi Chambers (R, 24:40); Marthia Slinkard (W, 25:58), Heather Wombwell (R, 27:19), Clara Altenhofen (W, 29:59), Samantha Angell (W, 33:17) and Sydney Angell (R, 39:28).
In the boys race, Calvin Morgan placed first for White in 18:18.
Jake Edholm led the Red team in second with an 18:40 time and Jakob Foley third in 19:01, also for the Red team.
The rest of the scoring was Chandler Hamman (W, 19:12), Josh Bosley (R, 19:24), Scott Vick (W, 19:45), Dylan Graham (R, 19:51), Aidan Boone (W, 19:58), Adrian Cullen (R, 20:49), Brendan Rogers (W, 20:56), Aaron Grant (W, 22:29), Tyler Griffith (W, 23:16), Samuel Manus (R, 23:19), Alex Falk (R, 23:26), Chas Gilmore (W, 23:40), Nolan Rogers (W, 25:05), Abraham Puebla (R, 25:18), Kyle Chambers (R, 25:50), Braxton Shupe (R, 27:08) and Jon Derzinski (W, 28:38).
THS opens the season at 9 a.m. Saturday at the Leavenworth County Fairgrounds with a dual against Lansing. There will be both varsity and junior varsity races for boys and girls.
The team's first big meet is Sept. 9 with a meet at Wamego. Other teams there are Abilene, Andale, Anderson County, Atchison, Baldwin, Basehor-Linwood, Chapman, Circle, Clay Center, Clearwater, Colby, Concordia, El Dorado, Eudora, Hayden, Hugoton, Jefferson West, Mulvane, Rock Creek, Rose Hill, Santa Fe Trail, Scott City, Thomas More Prep- Marian, Ulysses and Winfield.