Chromebook Crusaders (Tonganoxie High students) assist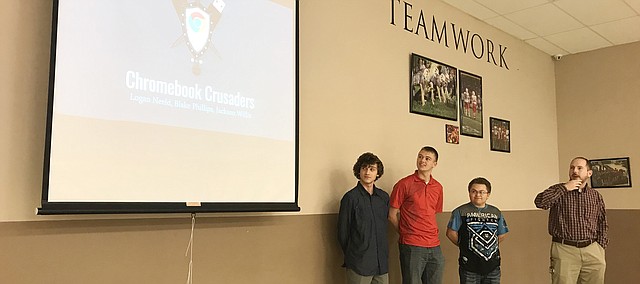 New technology can come with plenty of needed troubleshooting and support, but a few Tonganoxie High School students are helping make those transitions go smoother.
THS students Jackson Willis, Blake Phillips and Logan Neeld are the school district's current Chromebook Crusaders — information technology interns who have helped the IT department with the integration of Chromebooks at the high school.
The laptops are a 1-to-1 initiative that is supplying the entire district with the technology. The high school is first, with the middle school set for 2018-19 and the elementary school 2019-20.
Gary Richmond, technology integration specialist, said the students have been of key asset for the department.
"When they signed up to be tech interns, I don't think they entirely knew what they were getting into," Richmond said.
The students presented statistics on the types of issues they addressed and the number of calls they received month-by-month.
"September spiked because of them being brand new," Phillips said. "People didn't know how to use them properly."
Numbers naturally have gone down, but the students joked that they needed something comparable to Batman's bat signal when a teacher or student is having technology distress.
Board Member Michelle McGhee said she was impressed with the students' presentation and assistance essentially with the IT help desk.
"You're way ahead of the curve," McGhee said.
The students' assistance also means IT personnel can tend to other tasks and be more efficient.
Richmond hopes to get a mix of juniors and seniors into the intern program so the turnover isn't class by class.