Pink tractor creator, former
VFW

post commander dies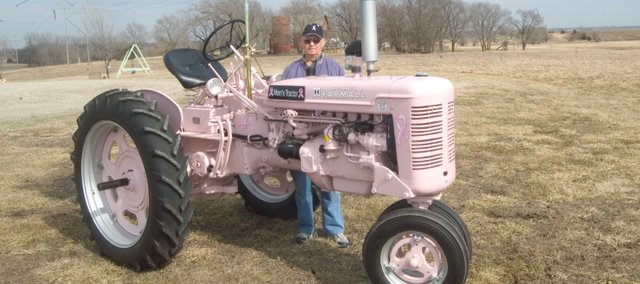 Local parade goers might remember a Tonganoxie fixture riding down the route on a restored tractor that was pretty in pink.
Harold Denholm restored a red 1951 Farmall tractor with son, Greg, in honor of Harold's wife and Greg's mother, Aileen Denolm, who lost her battle with breast cancer in September 2007. It was known as Mom's Tractor for many years because Aileen would mow with the tractor at least weekly on the family's rural Tonganoxie farm.
Harold Denholm died Dec. 19 at Lawrence Memorial Hospital. He was 88.
Denholm was a lifelong Tonganoxie resident. He was born March 17, 1929, in Tonganoxie.
For years, Denholm was a rural mail carrier and was involved in the community in various volunteer capacities.
He served on the Tonganoxie USD 464 school board, was a Tonganoxie VFW Post commander and a 4-H community leader. He also was master of Henri Masonic Lodge No. 190 at one time.
Denholm also was known for his moderating abilities at VFW legislative coffees and candidate forums. He often infused a little humor when heading the various political forums.
For a full obituary about Denholm, see page 4A of today's Mirror print edition. Obituaries also are placed online at tonganoxiemirror.com.