Sharing the love for others in Tonganoxie area with Good Shepherd donations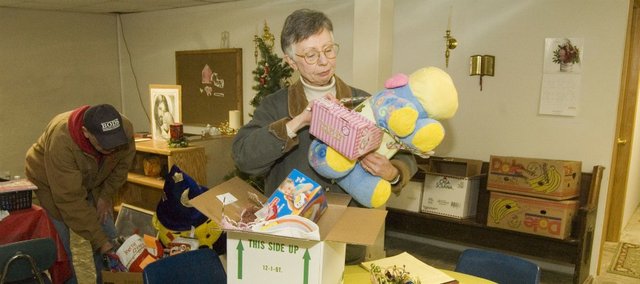 As families celebrated Christmas with loved ones, area residents again worked to make the holidays a bit brighter for neighbors in need.
Janet Stuke, volunteer for Good Shepherd Thrift Shop and Food Bank, said area residents have been generous.
"It has been very good," she said. "The pantry is probably in the best shape it's been in maybe for a couple years."
Thrift store sales, monetary donations and various drives all help with providing assistance to families through food and funds.
"The revenue from all the shoppers … there's some really nice Christmas things out for sale," Stuke said. "As usual Mayor (Jason) Ward issued a challenge to elementary and middle school kiddos to have a competition for tree lighting and continue on for a pizza party."
Ward's challenge has been a staple at the holidays the last several years. Students collected more than 4,000 cans for the food bank. The top class usually gets a pizza party courtesy of Ward, but this year a drawing took place for the winning class, which was Kathy Riddle's class.
In late January and early February, the Tonganoxie and McLouth United Methodist churches will have their annual Souper Bowl Challenge.
"We're looking forward to that," Stuke said. "That really helps us. It really does."
The donations are crucial, because by summer the food supply traditionally is depleted and Good Shepherd officials must dip into the coffers to purchase food from Second Harvest Community Food Bank.
"Traditionally the thought of giving kind of stops after Christmas is over," Stuke said.
Good Shepherd serves families in Leavenworth and Jefferson counties.





















Stuke said there usually are 12-15 new families each month that never have been in before. Sometimes that can be because parents' time doing seasonal work had come to a close.
"We're glad that we can help those families," Stuke said.
There's also a demographic that has become more prevalent among those in need.
Stuke said Good Shepherd has seen more members of the veteran population come in for assistance.
"Thanks again to the community," Stuke said. "We can always count on their support," she said.
Good Shepherd's thrift store is open 9 a.m.-2 p.m. Monday through Wednesday, along with Friday and Saturday. Anyone coming in for or inquiring about assistance can visit from 9-11 a.m. on those days.