Philling in for a legend in Tonganoxie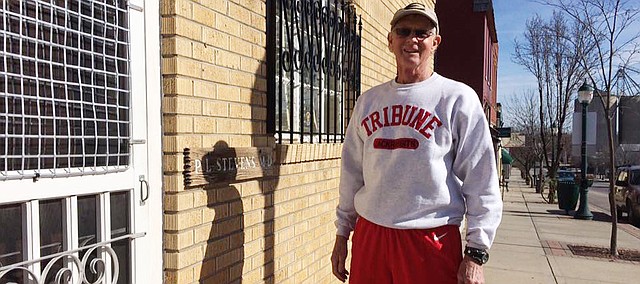 Groundhog Day was last week, which for many years meant Tonganoxie Phil, aka Dr. Phil Stevens, would emerge from his office to check whether he saw his shadow.
One of Tonganoxie's most beloved citizens, Stevens died in 2015 on the 60th anniversary of practicing medicine.
First because a Kansas City radio station started interviewing him as an answer to Punxsutawney Phil, Stevens later fielded questions from The Mirror long after the radio station stopped making the annual call to Stevens about his weather predictions.
Every year, Stevens would have some new and interesting quip about seeing his shadow or the success rate of meteorologists' forecasts and so on.
Last year sadly was the first year The Mirror was without a weather prognostication from Stevens.
However, this year, The Mirror decided to strike up the tradition in the good doctor's honor and ask another Phil from Tonganoxie whether he saw his shadow.
Sure enough, another beloved Tonganoxie fixture, longtime Tonganoxie Middle School physical education teacher and coach Phil Jeannin accepted the challegne. Jeannin, who now works part-time with the Tonganoxie Recreation Commission and substitute teaches in retirement, saw his shadow in front of Stevens' office on a very sunny and mild Thursday.
"It's been a mild winter," Jeannin said. "I think we're going to have a cold spell later."
His prediction of six more weeks of winter didn't set well with Mirror readers on social media, but they were happy to have Jeannin filling in for Stevens nonetheless.
Stevens practiced family medicine for 60 years in the same office in downtown Tonganoxie.
He always joked to office employees that if he died while at work, they could wheel him in his rolling chair across the street to Quisenberry Funeral Home.
Stevens enjoyed a day of well-wishers on his 60th anniversary of practicing medicine and then died in his sleep that night.
For a few years, Stevens also delivered babies and had a wall of fame in his office of all the local children he delivered during that time.
Jeannin said Stevens didn't deliver him, but he did deliver younger brother Pat, Phil Jeannin said.
Jeannin was honored to try to fill Stevens' weather prognostication shoes, but he's worried some late cold weather will come right when TRC crews are trying to get ball fields ready for summer activities.
The latest Tonganoxie prognosticator might hope for a similar success rate as Punxsutawney Phil.
In the latest chapter in the 131-year-old tradition in Gobblers Knob, Pa., Punxsutawney Phil saw his shadow this year, so he's also predicting six more weeks of winter, so the legend goes.
Historically, Punxsutawney Phil has a 39 percent success rate of correctly predicting the upcoming weather in Pennsylvania, so say the experts.