Tonganoxie City Council denies church request in Urban Hess, cites zoning regulations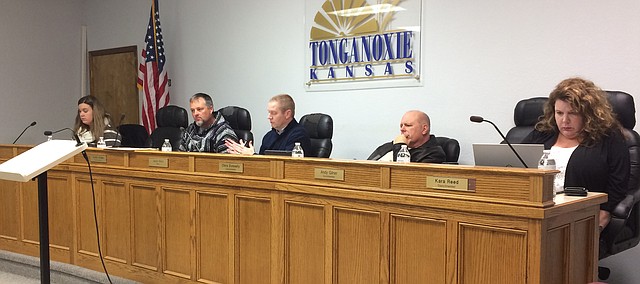 The Tonganoxie City Council has denied a church from having a lot in the Urban Hess Business Center.
The building, which is owned by Eric Finkbiner, once was a greenhouse and later a motorcycle shop. Finkbiner, who operated the pharmacy at the former B&J Country Mart, had plans for a business in the pharmaceutical company for his building in Urban Hess, but those plans fell through. Finkbiner said he hasn't made much money off a previous tenant, so when the Kaw Valley Church of Christ wanted to come to an agreement on the building, he jumped at the chance.
The property, however, isn't zoned for a religious institution.
The city's planning commission voted against the area being rezoned, while the Leavenworth County Port Authority also supported not rezoning the property.
Realtor Mary Claypool asked that the council consider a variance, noting the hardships with plans already being made for the property.
Council members said they welcomed the church and appreciated all that churches in the community do for Tonganoxie, but that the property wouldn't be the correct location.
Mayor Jason Ward, as well as Council Member Chris Donnelly said they would do everything they could to find alternate options for the church and Finkbiner. They said Tonganoxie's new City Manager had a strong background in economic development and should also be a big help moving forward.
Council member inquires about candidate requirements
Council Member Curtis Oroke said several Tonganoxie business owners have their businesses in the community, but are not residents. He asked about eligibility requirements for those wanting to run for City Council to include business owners.
Attorney Keyta Kelly, who was filling in for her husband, City Attorney Mike Kelly, said she didn't have the state statute with her, but she thought state law required residency. City officials were looking into the inquiry for the next regular meeting on Feb. 20.
Resident voices concern about animals on loose
Connie Putthoff said animals are becoming a nuisance in her neighborhood. Putthoff told the City Council on Monday that she's had issues with loose dogs and cats causing issues on her property. She's replaced flower beds because of cats soiling them.
City officials said they would look into ways that might better enforce fines or have them carry more weight so that they have more of an impact.
Discussion of the city's animal control officer, who is contracted through Basehor, making routine visits through neighborhoods was discussed.
Interim City Manager Jamie Shockley said staff would provide more information on the topic at the next council meeting.
City outsourcing billing
The city will begin outsourcing billing duties starting next month.
City Council members approved the measure, 5-0. The outsourcing of billing and utility bills will start in March.
— More from the meeting can be found online at tonganoxiemirror.com.
Deterrence program approved
The council approved a deterrence program with the Kansas Department of Transportation for its Impaired Driving Deterrence Program.
The agreement will help Tonganoxie police with doing scheduled checkpoints with assistance through the program.
Season pass for fundraiser approved
The Council approved a season pass to be donated for the annual Night of Knights fundraiser at Genesis Christian Acadmey. The council traditionally has approved the annual donation.