About 800 Tonganoxie ballots mailed backed so far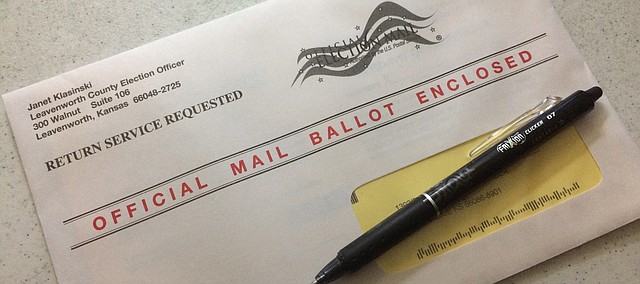 If Tonganoxie residents haven't seen their ballots for the sales tax question come in the mail yet, they should contact Leavenworth County Clerk Janet Klasinski.
Informational meetings have taken place, but The Mirror continues to offer reminders about the mail-in election, which centers around whether to approve a 20-year 3/4-cent sales tax that would replace the current swimming pool sales tax of the same rate. A 3/4-cent sales tax was approved in 2007 to help pay for Tonganoxie Water Park.
This sales tax will expire on Sept. 30, 2017, as the water park debt will be paid in full.
The proposed replacement 3/4-cent sales tax would last 20 years if passed (Oct. 1, 2017-Sept. 30, 2037).
The ballot question earmarks the tax going toward construction of new capital improvements, maintaining new and current infrastructure, funding debt issued for capital improvements and the construction of a new or expanded library. The tax would be in addition to a 1 percent citywide retailers' sales tax already levied within the city.
Revenue from the 20-year replacement sales tax is estimated at $7.2 million.Library representatives are projecting a new library would at most cost $3.6 million. Library officials have been searching for potential sites for a new library. There was discussion of a new library being built at Third and Main streets, but another potential site would be on the southwest corner of the former Tonganoxie Elementary School property.
A group of Tonganoxie residents are looking to purchase the property.
Klasinski said the county mailed out 2,898 ballots have been sent out to active voters. As of Tuesday afternoon, her office has received back 833 ballots.
Klasinski estimates that the election will cost Tonganoxie about $9,500.
Here are some notable reminders about the election from the Leavenworth County Election Office:
All active registered voters were mailed a ballot to the address on their voter registration record.
• Families with multiple ballots should send the ballots back individually with their accompanying envelopes, which include a required signature. Envelopes containing multiple ballots will not be counted.
• Voters can drop off ballots at the ballot drop-off outside the Leavenworth County Annex, 725 Laming, in Tonganoxie. Klasinski said that can help keep election costs down because there won't be any postage costs there. Ballots also can be dropped off at courthouse.
• Feb. 24 is the last day to mail replacement ballots. Klasinski said voters who have not received ballots by Monday or Tuesday should contact her at 913-684-0421 to determine why they haven't received ballots yet.
• Noon Feb. 28 is the mail-in ballot deadline.
Ballots must be returned by noon that day to be counted.
• County Commission members will canvass votes March 6.
• Deadline to request recount of election is 5 p.m. March 10.