Tonganoxie
FFA

members compete in area events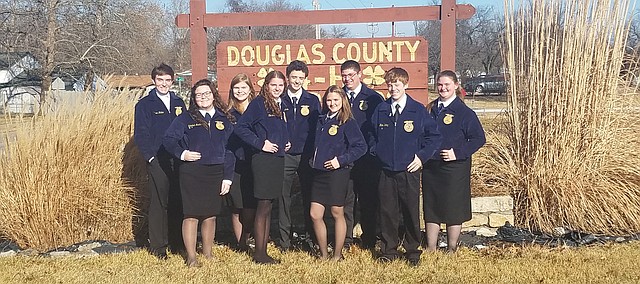 Tonganoxie FFA members competed last month in various speech competitions.
The local FFA chapter had nine members travel Jan. 18 to the Johnson County Fairgrounds in Gardner for the for the East Central District Speech Competition. Reciting the National FFA Creed by EM Tiffany freshmen Jake Edholm and Ellie Braun, who placed 10th and 11th respectively. Reciting original speeches in the freshman division, Demi Hull placed first and Jake Edholm ninth. In the sophomore division, Jackie Oelschlaeger placed fourth and Shawna Kirk 11th.
Bryce Atchison and Rebekah Martin competed in the junior division, with Martin placing eighth. In extemporaneous speeches, Talan Hinds placed first and Tanner Walden ninth.
Team competes in vet science, milk quality and poultry
THS FFA membes competed last week in the East Central District vet science, milk quality and poultry competitions.
The vet science A team placed third, while the B team took second. A-team members were Cameron Renne (fifth), Shawna Kirk (sixth), Tanner Walden, Ali Canean and Taylor Lynne. B-team members were Sam Koch (second), Alexis Hemelrick (third), Madison Ford (fifth), Libby Sweeney and Tracy Oelschlaeger.
The milk quality A Team placed 10th. A-team members were MaKayla Callaghan, Tracy Oelschlaeger, Braxton Shupe, Demi Hull, Cole Schuck and Enrique Juarez. B-team members were Abraham Puebla, Quinton Maggart, Austin Hurla, Dylan Graham, Wyatt Green and Jacob Kouns.
The poultry A team placed seventh. Team members are Alan Hinds, Bryce Atchison, Rebekah Martin and Dawson Pope.
Breakfast later this month
Tonganoxie FFA will have its annual businessman's breakfast at the end of the month. The meal of all-you-care-to-eat eggs, sausage, pancakes, biscuits and gravy, coffee and orange juice served by FFA members from 6:30-10:30 a.m. Feb. 25 at THS east campus cafeteria, 404 E. U.S. Highway 24-40.
Donations are welcome but not required.