Tonganoxie
USD

464 eyes early start to track renovations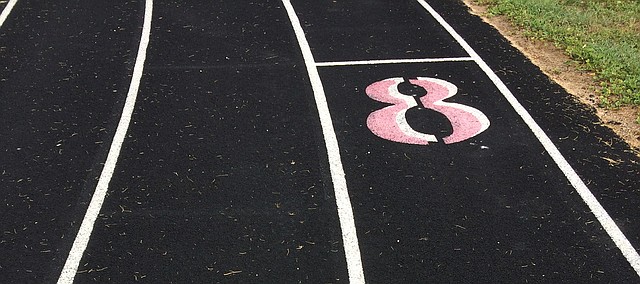 Tonganoxie USD 464 expects to have a new track at Beatty Field later this year.
Superintendent Chris Kleidosty told the school board at Monday's regular meeting that the district would be seeking bids in hopes of the project starting in May.
He said competition for such projects are so high in the summer months that an earlier start would be more advantageous. Kleidosty said he got feedback from track coaches about when the project could start. May 7 was the agreed upon date, with the idea that any meets after that Tonganoxie was slated to host would be moved to the Basehor-Linwood High School track.
Kleidosty also said that it was determined the track currently doesn't measure 400 meters. He said lanes are a few feet longer. He said it was possible the measurements got off kilter when high schools made the jump from distances in yards to meters. He said getting the track at 400 meters for all lanes would require extra asphalt, which probably would cost an extra $15,000, which he said still was within the district's budget.
New THS courses for 2017
Tonya Phillips, director of educational programming, gave a rundown of new courses to be offered in 2017-18.
AP English language and composition, AP U.S. government and politics, pre-AP biology and graphic design I and II are some of the classes to be offered. Introduction to corrections and law enforcement operations and procedures, both criminal justice courses, would carry dual credits with Kansas City Kansas Community College.
Longtime teacher finishing career
Andy Gilner, Tonganoxie High social studies teacher for nearly 40 years, was included in a list of resignations the board approved Monday.
Gilner's resignation is effective at the end of this school year.
Other resignations approved were David Milhon as technology coordinator (effective Jan. 27); Rebecca James, fourth-grade teacher, effective at the end of the school year; Ian McClellan, THS assistant coach, effective immediately; Tracy Lyon, Tonganoxie Elementary School dishwasher, effective immediately.
Edward Lacer was terminated as bus driver, effective immediately.
Work agreements also were approved: Morgan Oroke, THS softball assistant coach (replacing Melissa Pratt), for the 2017 season; Rachel Padfield, TMS counselor (replacing Donna Workman); Angela Slabaugh, THS language arts (replacing Kathy Nolan); Ellis Whitesell, bus driver, (replacing Ellis Lacer); Gail Kiefer, TMS technology teacher (filling new position); and Chris Weller, TMS boys track coach (replacing Patrick Holton).
A new TES technology teacher position, which will replace the library position split between TES and TMS, was approved for 2017-18.
1-to-1 initiative
Plans are moving forward with the district's 1-to-1 initiative of providing each student with a laptop.
Currently, implementation would start with rollout of Chromebooks in three phases. The first phase would be THS implementation this fall.
Tonganoxie Middle School and fifth grade would be supplied with the laptops in fall 2018 and the rest of TES would receive them in fall 2019.
— Look for more about Chromebook plans and other items from Monday's meeting in coming editions of The Mirror.