Tonganoxie wrestlers are
KVL

co-kings
Chieftains tie for league crown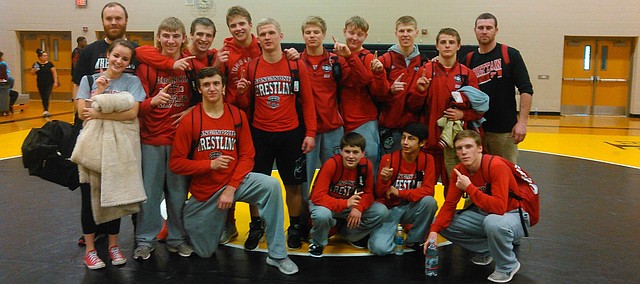 It's a league championship season for Tonganoxie High wrestling.
THS and Bonner Springs tied for the Kaw Valley League title Saturday at Turner.
Tonganoxie and Bonner both scored 165 points, with Basehor-Linwood third with 156.5.
THS had five gold medals, four silver medals and one bronze. THS also had two fourth-place finishes.
Bonner Springs had four golds, four silvers, two bronze medals, two fourth-place medals and one fifth-place medal.
In the 106-pound division, Tonganoxie freshman Caleb Allen (13-13), lost to BLHS freshman Brayton Olesen (13-13) by fall at the 2:42 mark in the championship match.
At 113, BSHS freshman Xavier Seaton (19-10) defeated THS freshman Blake Sparks (5-23) by fall 42 seconds into the match.
Tonganoxie junior Aidan McClellan (30-5) placed third at 120 with a pin against Turner junior Jose Nevarez (17-20) at the 1:13 mark.
Kobin Riedel placed second at 132. The THS sophomore (31-5) lost to Basehor-Linwood senior Corbin Nirscht (36-1) by a 10-3 decision.
Gad Huseman picked up Tonganoxie's first gold medal at 138. The THS junior (36-2) outlasted Bonner Springs senior Thomas Fehihafer (27-10), 9-1. Patterson Starcher (34-4) also won gold with a 7-1 decision against Bonner sophomore Holden Lentz (24-18).
Caden Searcy finished fourth at 152. The THS junior (27-9) lost by forfeit to Lansing freshman Tyler Green (14-11).
THS junior Justin Hand (22-5) nabbed gold at 160 with a victory against Basehor-Linwood freshman Josh Willcutt (23-19).
THS junior Devin Duncan (26-9) placed second to Basehor-Linwood junior TJ Williams (18-6).
Tonganoxie senior Cody Knight (25-9) defeated Piper senior Brendan Smith (15-9) by a 16-6 decision at 182.
At 195, THS freshman Connor Searcy (11-9) placed third with a 6-0 victory against Piper senior Kalin Fergus (17-13).
And at 220, Tonganoxie sophomore Jacob Miller (5-22) fell to BLHS junior Thomas Garcia senior Thomas Garcia (25-17). Miller put in a strong effort, losing by pin at the 5:26 mark.
THS finishes duals 11-2
Tonganoxie defeated Turner, 57-21, and Holton, 40-34, at Senior Night duals Thursday in Tonganoxie. The victories pushed Tonganoxie's final record to 11-2.
THS also had its inaugural sumo suit match during activities Thursday. THS instructor Mark Padfield and THS principal Mark Farrar squared off in the match, with Padfield winning the special event.
Regionals next
Tonganoxie will compete Friday and Saturday for a chance to advance to state.
The Chieftains are in Class 4A regional action at Santa Fe Trail near Carbondale. Matches start at 2 p.m. Friday and 10 a.m. Saturday. Other teams at the regional with Tonganoxie and Santa Fe Trail are Atchison, Baldwin, Basehor-Linwood, Bishop Miege, Bishop Ward, Bonner Springs, Eudora, Hayden, Holton, Jefferson West, Ottawa, Piper and Spring Hill.
KVL team results
(tie) Bonner Springs, 165, Tonganoxie, 165; 3. Basehor-Linwood, 156.5; 4. Piper, 56.5; 5. Lansing, 55; 6. Turner, 51; 7. Bishop Ward, 3.