A perfect 10 for Tonganoxie High wrestlers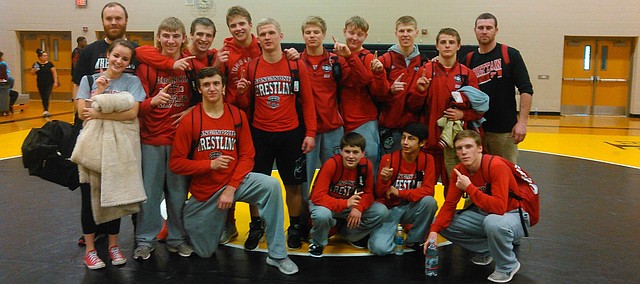 CARBONDALE — After tying Bonner Springs for the Kaw Valley League title last week, the Tonganoxie wrestling team knew it would need its best performance of the season to claim the regional championship.
The Chieftains did that and then some at a Class 4A regional Friday and Saturday at Santa Fe Trail High School.
Tonganoxie broke its previous school record of eight state qualifiers by qualifying 10 wrestlers for the state tournament on Saturday afternoon. Four wrestlers placed first, three placed second, two placed third and one placed fourth, and Tonganoxie topped Bonner Springs by 13.5 points (195-181.5) to claim the regional championship.
"We just came to wrestle and took care of the matches we needed to," coach Ross Starcher said. "We couldn't ask for anything more out of them. They gave it all they had. It was awesome."
Caleb Allen, Aidan McClellan, Korbin Riedel, Gad Huseman, Patterson Starcher, Caden Searcy, Justin Hand, Devin Duncan, Cody Knight and Connor Searcy all qualified for state.
McClellan won his first place match over Kolby Roush, of Holton, in an 11-6 decision, while Huseman won his first place match over Levi Green, of Baldwin in a 5-2 decision.
"We're peaking when it matters," Starcher said. "They just came in and worked hard all week, and they're doing what we ask of them."
However, the title didn't come as easily for Knight and Hand.
Midway through the second period, Knight saw his 2-0 lead turn into an 8-2 deficit. Even though things weren't going his way for much of the match, he knew better than to give up.
"(Coach) Ross Starcher always told me to never give up on your shots," Knight said. "It doesn't matter if you're down 12-1, you don't give up. Never give up. I just decided I didn't want to give up yet."
Knight, the lone senior on the team, scored four consecutive points before eventually scoring a pin to win the match in the third period.
Hand was in a similar situation, except Starcher actually felt he controlled the match, but got caught in one move and trailed 4-6. It didn't matter, as Hand was able to score a pin in the second period to win the match.
In addition to 10 state qualifiers and a regional championship, Starcher was also named regional coach of the year.
"I think we're doing great things," Starcher said. "We've got almost our whole team coming back, we're only losing one senior. We're expecting great things in the near future."
However, Starcher isn't looking to the future just yet. Even though he's excited for what next season could hold with nine returning state qualifiers, Starcher is eager to see what his team is made of this season in Salina.
"I'm not counting next week out," Starcher said of the state tournament. "We got a shot to go down there and possibly bring home a plaque."
Tonganoxie will head west later this week for the 4A state championships, which will be Friday and Saturday at the Salina Bicentennial Center on Friday and Saturday.
Regional winners
Tonganoxie was one of the top eight teams in regional play Saturday across the state in 4A.
THS took first and Bonner Springs second at the SFT regional a week after being at the top of the KVL together a week before.
Abilene took first and Clay Center second at the Buhler regional, while Andover Central and Andale went 1 and 2, respectively, at the El Dorado regional.
And in Frontenac, Prairie View placed first and Burlington second at the fourth 4A regional.
In 6A, Garden City went 1-2 in Hutchinson, while Olathe North and Olathe Northwest took 1-2 at Blue Valley. In 5A action, Goddard placed first and Arkansas City second at Goddard and Blue Valley Southwest first and Mill Valley second at Leavenworth.
And in 3-2-1A, top two teams, respectively at the four regionals were: Douglass and Marion (Jayhawk-Linn), Hoisington and then Beloit and Chaparral (tie for second) (Southeast of Saline), Norton Community and Smith Center (Trego Community) and Marysville and Sabetha (Wabaunsee).
Wrestling Regional
Team scores
Tonganoxie 195.0, Bonner Springs 181.5, Santa Fe Trail 159.0, Holton 126.0, Basehor-Linwood 110.0, Spring Hill 109.5, Ottawa 88.0, Baldwin 73.0, Eudora 39.0, Meriden-Jefferson West 37.0, Bishop Miege 33.0, Atchison 25.0, Piper 12.0, Topeka-Hayden 12.0, Bishop Ward 4.0.
THS placings
(tournament record)
106 — 3. Caleb Allen (3-1)
113 — Blake Sparks (0-2, place N/A)
120 — 1. Aidan McClellan (3-0)
132 — 2. Korbin Riedel (2-1)
138 — 1. Gad Huseman (3-0)
145 — 2. Patterson Starcher (3-1)
152 — 3. Caden Searcy (5-1)
160 — 1. Justin Hand (3-0)
170 — 2. Devin Duncan (2-1)
182 — 1. Cody Knight (3-0)
195 — 4. Connor Searcy (2-2)
220 — Jacob Miller (0-2, place N/A)
State pairings
(opening round)
106 — Caleb Allen, fr., 16-14 vs. Blake Leiszler, jr., Concordia, 32-4.
120 — Aidan McClellan, jr., 33-5 vs. Tye Paluso, jr., Chapman, 17-6.
132 — Korbin Riedel, jr., 33-6 vs. Huntyr Schegman, jr., 18-11.
138 — Gad Huseman, jr., 39-2 vs. Adler Pierson, fr., 30-16.
145 — Patterson Starcher, jr., 35-5, vs. Steele Morin, fr., Winfield, 8-8.
152 — Caden Searcy, jr., 32-10, vs. Conrad Vajnar, sr., Hays, 27-11.
160 — Justin Hand, jr., 25-5, vs. Jackson Stafford, sr, Independence, 27-14.
170 — Devin Duncan, jr., 28-10, vs. Ridge SMith, jr., Columbus, 24-8.
182 — Cody Knight, sr., 28-9, vs. Ali Viravong, sr., Winfield, 21-13.
195 — Connor Searcy, fr., 13-11 vs. Anthony Chapul, sr. Andale, 36-0.