Chieftain Cafe at Tonganoxie Public Libray welcomes volunteers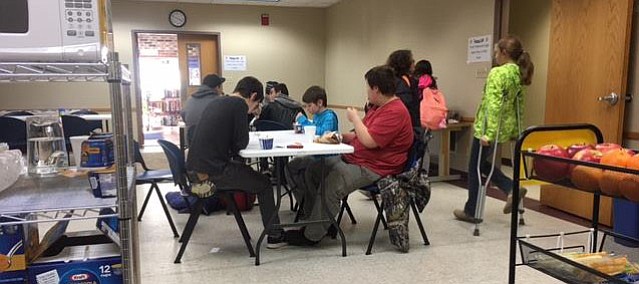 Youths are utilizing a Tonganoxie Public Library after-school program that also is in need of more volunteers.
The Chieftain Cafe, a program that provides food and other assistance, is open to youths 18 and younger 3:30-5 p.m. Mondays through Fridays in the library's community room.
Library director Nicole Holifield said she started kicking around the idea after observing younger patrons at the library.
"We had a lot of kiddos coming in who were hungry, specifically after school," Holifield said.
She said after realizing how many middle school and high school students were on free or reduced lunches, she thought the program made even more sense.
Nutritious food is available to any students who want to stop by, as is homework assistance and, as of Monday, themed days.
"There is a little bit of junk food, but we're trying veggie sticks and fruit snacks and other things other than going straight to two bags of potato chips," she said.
Monday is Minecraft/Roblox, when laptops will be set up to play Minecraft/Roblox every Monday in the community room. Library officials set out iPads for youths to play games on Techy Tuesdays, while artist Liz Daniels is available for arts and crafts on Wednesdays.
Boys play against girls on Trivia Thursday and, on Fridays, visitors can enjoy frozen yogurt.
Holifield pitched the new program idea as a possible volunteer project for her Southern Leavenworth County Leadership Development Class group, as she is an SLCLD class member this year.Classmates in her volunteer group were on board.
Holifield also applied for a grant and in November, she learned that the program also received $5,850 through the Pete and Margaret Leighty Grant Fund.
The program started earlier this month and in two weeks has attracted about 200 youths ranging in age from 4-18. The program is being offered weekdays through June 16.
Wednesday, Jan. 11, was the program's busiest day so far, as 36 children were in attendance.
Holifield said she's pursuing more grants so that the program can continue beyond June.
Holifield's SLCLD group has been trying to get volunteers to assist with the after-school program, but more volunteers are needed. Anyone interested in volunteering should email Holifield at director@tonganoxielibrary.org or call at 913-845-3281. Sign-up volunteer slots also can be found at the library's circulation desk. Some have given food donations, which also are welcome.