Conference shifting continues for high school leagues
De Soto joining
KVL

schools in yet-to-be-named league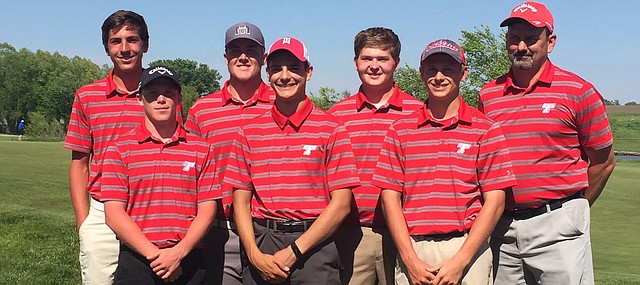 The league merry-go-round continues in this part of the state.
The 2017-18 school year will be the final year of the Kaw Valley League, which dates back 30 years.
Tonganoxie, Basehor-Linwood, Bishop Ward, Bonner Springs, Lansing, Piper and Turner will compete in the league for a final time together starting in August.
Bishop Ward is leaving for the Crossroads League.
Tonganoxie, Bonner Springs and Piper will join Ottawa, Paola, Eudora, Baldwin, Louisburg and Spring Hill to form an updated Frontier League in fall 2018.
De Soto, which left the KVL in 2004 to join the Frontier League, is now leaving the Frontier League for the yet-to-be-named league of other KVL mainstays and other area schools.
Basehor-Linwood, Lansing and Turner will join De Soto, Leavenworth and Shawnee Heights to form the new league.
The schools have created an online video of student-athletes from each of the schools asking for name suggestions. Submission deadline is July 31, with a student panel determining the winning name. The YouTube site is youtube.com/watch?v=5JnsjzFMl6o&feature=youtu.be for the naming information. Organizers also are using the hashtag #KSNameOurLeague.
Tonganoxie officials weighed options of staying in a new league with Lansing, Basehor-Linwood and Turner, but they ultimately opted for the Frontier League move because schools were more comparable in size and identity to Tonganoxie.
The Kaw Valley League had its first stint in the 1920s and 1930s, but the present league's roots date back to 1983.
Santa Fe Trail joined the league in 1991 and was a 10-school league at one time, with Mill Valley joining in 2000 when the school was created and Bonner Springs in 2002 from the Huron League.
Membership moved between nine and 10 members during the next several years.
Bishop Ward came over from the Huron League in 2004. Immaculata left for the now-defunct DVL in 2007, then formerly independent Turner joined in 2009.
Perry-Lecompton and Santa Fe Trail left for the Big Seven in 2010 and Mill Valley bolted for the Eastern Kansas League in 2016.