Love for longtime veteran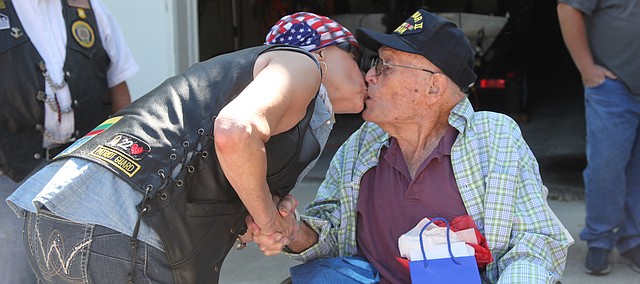 A parade of 30 motorcycles, many donned with large American flags, suddenly happened Saturday morning in Tonganoxie.
The procession, which a Tonganoxie police car led, even had some spectators who stopped to wave at the cyclists while they winded through the community.
This group of American Legion Riders, though, weren't just out for a leisurely weekend ride.
They were visiting a local veteran to honor his service.
Dave Underwood has lived in Tonganoxie more than five decades.
The World War II veteran isn't able to get from his residence often, so the bikers brought the part to him Saturday morning.
One by one, military veterans from riding groups Tonganoxie, Leavenworth, Ozawkie, Gardner, Overland Park and Olathe, shook Underwood's hand, chatted him up and thanked him for his service as he sat in his partly shaded driveway.
"My living room is small, otherwise I'd invite you all in," he said.
Some bikers even brought gifts and baked goods to the veteran during the morning gathering.
"Is there no end to the good stuff?" he said.
Saturday's gathering came together recently after Don Harden was chatting with his mother, Peggy Corkins, who is a caregiver to Underwood.
Harden is area director for American Legion Riders' northeast Kansas district.
He reached out to others in the district and several riders responded. They met near Chieftain Park and headed out from the field house parking lot near Beatty Field.
Underwood told his fellow veterans visiting Saturday that he served during and after World War II from 1943-46, including occupation duties in Japan.
One rider told Underwood he was the reason he joined the military, because of World War II.
Underwood shared a different impetus — the draft.
"I graduated from Wyandotte High School in 1943," Underwood said. "I had a diploma in one hand and draft orders in the other."
With an array of motorcycles in his driveway, Underwood reminisced about his days for riding motorcycles. He said he had a 1947 Harley at one time, as well as an Yamaha 1100 Classic.
"That was a lot of bike," Underwood said.
He later commented he was "salivating over the motorcycles" in front of him.
"What beautiful motorcycles and what a beautiful day," he said. "Thank you, Lord."
In addition to his love for motorcycles, Underwood was quite the woodcarver.
Connie Underwood, who has been Dave's daughter-in-law for 43 years, was on hand with sons Steve, Carl and Greg.
Connie said Dave would carve the sculptures and his late wife, Fay, would paint them.
Neighbors also joined in the gathering. Dave said there would be times tree branches would fall on to his lawn. In a few days, the branches would disappear, thanks to a neighbor, Dave noted.
Harden said he and others would like to visit Dave from time to time if that was to his liking.
The World War II veteran said he would welcome their visits.
Asked about the impromptu reception Saturday, Dave said he was "just overwhelmed, really."
As touched as he was, Dave also kept his fellow veterans in stitches often during their visit.
"As much talking as I've done, you're probably glad I didn't prepare a speech."
The Legion riders assured him that wasn't the case. Rather, they were happy to be in the World War II veteran's presence as the calendar turned to July and the country soon would be celebrating Independence Day.
For Dave, who said memories were so important to a person, it was an appreciated morning.
"I didn't realize I had so many friends to get me through the days," he said.