Solid as a rock in Tonganoxie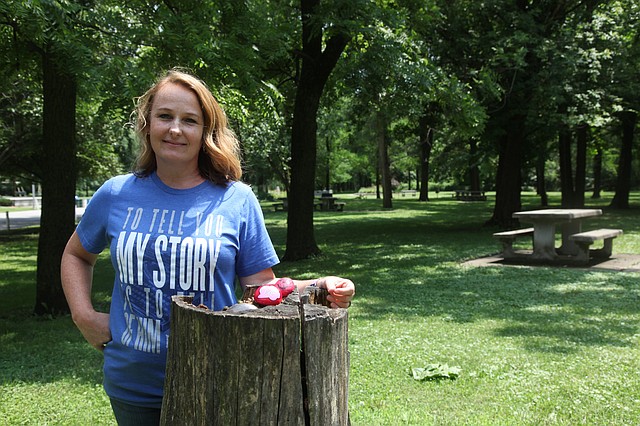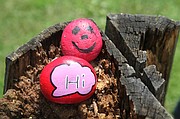 Think Pokémon without participants zeroed in on a smartphone screen.
What started out as a fundraising effort to bring awareness to others about a disease has turned into a popular activity in Tonganoxie.
Tammy Wagner, of Tonganoxie, who suffers from cavernous angioma, was looking for ways to raise money for research and awareness.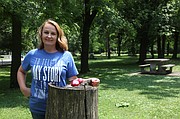 While rehabbing from numerous surgeries to combat the condition a few years ago, Wagner started painting. The hobby turned into another fundraising arm, as she has sold paintings to folks across the globe.
According to angiomaalliance.org, cavernous angiomas are vascular lesions comprised of clusters of abnormally dilated blood vessels.
These lesions can be found in the brain, spinal cord, and, rarely, in other areas of the body including the skin and retina.
Wagner had brain stem and spinal cord surgeries back to back. She also lost her sister to the condition in 2003.
She recently came up with Rock My World, in which people could send her donations and rocks that she could paint.
She received 140 rocks, many from across the United States but others from Australia, Sweden, England and Peru.
Through those efforts she learned of the 918 Project in Oklahoma. Named after one of that state's area codes, it's a Facebook group that places painted rocks in parks and other spots for others to find. One can move the rock for others to find or keep it and replace with another painted rock.
And so Tongie Rocks was born.
The TongieROCKS Facebook page has 541 members and is updated daily with folks hiding and introducing new rocks throughout the community. There also are a complete list of simple rules for folks to follow if they want to get involved.
"I had this brainstorm," Wagner said. "The first thing I painted before canvas was rocks. I gave them to my dad to put rocks in my mom's garden."
The idea came full circle and Wagner now is leading a summer activity in Tonganoxie while also bringing awareness to her disease.
She signs her paintings as Tamela Blessed because of what she has felt her newfound hobby has done for her throughout her challenges with surgeries. She also includes a testimony card with her paintings.
"I'm not trying to shove religion down anyone's throat," she said."It's about hope and anything's possible. It's more spiritual than it is religious.
"Good things happen out of really bad things. You can't give up. You must keep climbing the mountain."
Kathy Link, a longtime teacher at Genesis Christian Academy who now has a craft business Kathy's Kottage, painted some rocks as well alongside Wagner to get the movement going in Tonganoxie. Wagner said it's hard to track how many rocks have been painted and placed throughout the community, but it's clearly spreading.
Shawnee has similar community involvement, while Basehor residents just started their own rock hide-and-seek push.
Wagner's efforts might not get to Oklahoma rock levels — that group has some 17,000 members — but the activity clearly is catching on in the area.
Wagner likes to donate her paintings to charity.
This Friday, she'll have her first art show.
Perky's Cafe in Basehor is having an after-hours show featuring Wagner's work on Friday.
Some proceeds will go to benefit the Askew family.
On Father's Day 2016, the Basehor family was returning home from an outing at the Topeka Zoo when they got into a two-vehicle wreck on U.S. Highway 24 in Jefferson County that also claimed the life of the other driver, Ronald D. Heston of Oskaloosa.
The parents, Travis and Ashley Askew and 6-month-old daughter Haley were killed in the accident. Two other daughters, LJ and Lilly, 5 and 3 at the time, were injured but survived.
Friday's show, "An Evening in the Garden of Life with Tamela Blessed," starts at 7 p.m. at the cafe, 15510 State Ave. in Basehor.
Wagner hopes the show is a success and money can be raised for worthy causes.
As for those rocks, Tonganoxie residents young and old are getting out and getting involved with the activity.
That easily brings a smile to Wagner's face.
"I really truly think people are getting enjoyment out of it," she said.