Tonganoxie High Science Club,
FCCLA

join forces to offer first Science Camp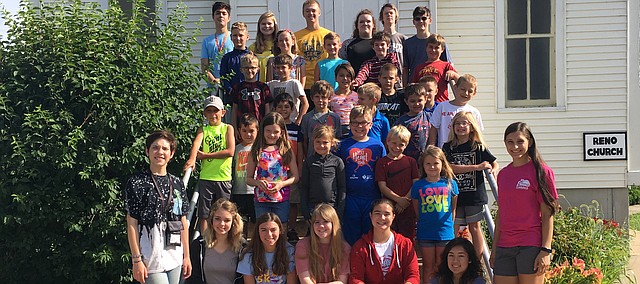 Tonganoxie youths received a summer dose of science last month, thanks to Tonganoxie High School students.
Science Camp took place June 26-30 at the Tonganoxie Communty Historic Site campus.
Throughout the week, 17 THS students from the school's Science Club and Family, Career and Community Leaders of America chapter assisted with the camp, which 24 youths entering grades 1-4 attended.
Dry ice demonstrations, bottle rockets and pendulum paintings were a few of the demonstrations at the camp.
For the pendulum paintings, paint dripped from an empty water bottle held by a string that, when in circular motion, would make a spiral.
The young campers also completed hands-on projects.
Students grew their own plants, crystallized sugar, made a simulated food chain and created a miniature catapult.
Lessons were split up into four division: biology, chemistry, physics and ecology.
In the middle of Space Camp week, children created their own play-dough planets and watched bottle rockets launch.
Half of the activities took place in the school house and the other half at the Knox-Fairchild Dairy Barn on the TCHS campus.