Tonganoxie
USD

464 board names new president, vice president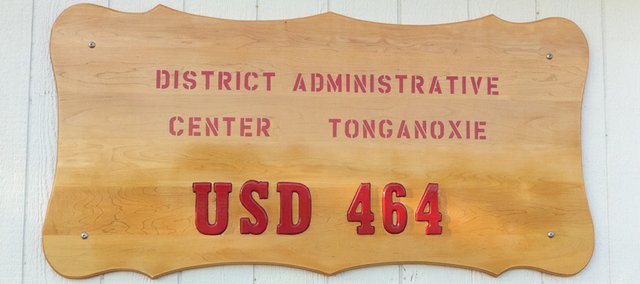 The Tonganoxie school district has board leadership for a new year.
As is procedure each summer, the board votes for a new board president and vice president.
The 2017-18 president is Bryan Kemp and vice president is Amelia Brusven.
Both were voted by unanimous 7-0 votes. Brusven nominated Kemp for president and then Kemp nominated Brusven for vice president.
Fellow Board Member Kaija Baldock also nominated Phillip Welsh for vice president, but she didn't receive a second. Kemp and Brusven take over for Michelle McGhee and Dan Hopkins who were president and vice president, respectively, for 2016-17.
Phillips' contract clarified
The July 5 edition of The Mirror had a story that included the board's decision to compensate Tonya Phillips, director of educational programs, for her duties as interim superintendent since Superintendent Chris Kleidosty was put on administrative leave.
The board approved renewing Phillips' contract for another year. Her base salary stayed the same at $74,700 for 2017-18. Her additional compensation was $15,100 for her interim superintendent duties.
Accomplishments recognized
Phillips presented Tonganoxie Middle School teacher Kathy Harrell with a floral arrangement for recent distinction as Kansas top history teacher.
The board also heard summer national convention accomplishments for the THS Future Business Leaders of America and the THS Family, Career and Community Leaders of America chapters.
Budget transfer approved
As is procedural in advance of a new budget year, the board approved the move of $154,055, the general fund's current balance equally split between the special education and textbooks. The general fund must be at zero heading as the budget year closes.
Work agreements
Michelle Berg, third-grade teacher (replacing Nikki Jones); Stephanie Vermilye, bus driver (replacing Ellis Whitesell); Samantha Laub, dishwasher (replacing Tracy Lyon); Debbie Mitchell, Tonganoxie High School kitchen manager (replacing Heidi Fletcher); Jeremy Mitchell, THS Evening Custodian (replacing Robert Lewis); Eric Gowdy, TES evening custodian (replacing David Smith); Kelsey Junker, TES fifth-grade teacher (replacing Lynn Franey); Michaela Bartels, fourth-grade teacher (replacing Margaret Miller); Sara Schiller, bus aide (replacing Shirley Conrad), and Ginny Reischman, eighth-grade volleyball head coach (replacing Kelly Neis).
Internal transfers
Sara Laundy, student nutrition office assistant (filling new position).
Resignations
Lynn Franey, fifth-grade teacher; Margaret Miller, fourth-grade teacher, THS track assistant coach, TMS volleyball head coach; and Jayme Breault, gifted teacher. Continuing position under contract with Basehor-Linwood.
New position
TMS science, technology, engineering and mathematics teacher, replacing current spanish teacher position at TMS.