Blooming business in Tonganoxie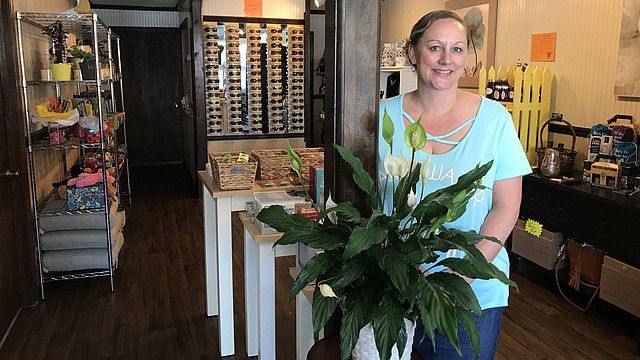 Alissa Griffin likes to tszuj up a space and Tonganoxie has been without a floral shop the last few years.
So, with the biggest holiday of the floral year approaching, Griffin opened Fun and Fabulous Floral and Gifts.
She opened just a few days before Valentine's Day earlier this year and continues to increase her business, especially with her flowers.
"We really needed it," Griffin said about the floral shop. "And I really like decorating. It's my passion."
And so her business was born. With Optometrists Richard Dean and Katie Volk moving their practice to U.S. Highway 24-40, Griffin seized the opportunity to open a shop in the downtown district in the former optometrist office at 420 E. Fourth St.
Griffin said she picked the location because it complements various businesses downtown and, she hopes, more will follow.
For instance, customers looking for venue space at Magdalena's and the Brunswick Ballroom quite possibly could need floral arrangements for their tables, while someone heading to It's a Sweet Treat Bakery up the street inquiring about cakes might want to order flowers as well for that special occasion.
She sees similar opportunities with customers visiting Magdalenas Salon, The Beauty Barn or soon-to-open Blush Spa and Photography.
And, of course, the floral shop is now a viable option for anyone wanting to send arrangements to Quisenberry Funeral Home.
But the shop isn't just about flowers.
Griffin is a licensed dealer for Russell Stovers candy, Skin KC products and Next to Nature Farm organic supplies. Next to Nature has honey, hand creams, skin rubs, candles and jellies. There are other supplies, such as Hallmark cards, Yankee Candles, Original Juan sauces and Poo-pourri. The store also has decorative balloons, various chocolate bouquets and Virginia Peanuts, which is a nod to her husband's home state.
There's also a reminder of the building's former life as an optometrist's office. Griffin sells Pugs sunglasses. She said the reasonably priced sunglasses are a plus, especially if one misplaces or breaks pairs of sunglasses, as Griffin joked she sometimes is prone to do.
The store is open 10 a.m.-3:30 p.m. weekdays and 10 a.m.-1 p.m. Saturdays. That allows Griffin to deliver flowers before and after store hours. There's become a growing demand for that, she said, especially with her affiliation with online floral sites. She said the store has been registered with BloomNet for about a month and Teleflora as of Monday. FTD will join that list Aug. 1. She noted that her flowers are local, as they either come from Free State Growers in Linwood or another wholesale provider in Havensville.
She said Tonganoxie, Basehor and Bonner Springs have been her main delivery areas, though she has some customers in Kansas City, Kan.
Griffin originally is from Carbondale and was a homemaker for 10 years before taking the plunge into the flower world.
The owner wants to continue with some craft opportunities at the shop, as she's been partnering with Kathy Link from Kathy's Kottage. Griffin has event space for small gatherings of about 12 people in an additional room at her shop.
In fact, the business is part of the latest Ladies Night Out event in downtown Tonganoxie.
This week's theme is Totally 80s. The first stop is It's a Sweet Treat Bakery, second is the Ratliff Drug Store and the third stop is The Myers Hotel Bar. Next is Fun and Fabulous Floral. The Beauty Bar is the final stop. There will be music, desserts, shopping and more, including these vendors: Jamberry, Touchstone, LIpsense, Scentsy, Lularoe and White Rose.
For more about the business, visit its Facebook page or go to funandfabulousfloral.com.
Guests are encouraged to wear 80s-themed costumes or clothing for a chance to win gift cards. The event is 6-8 p.m. Tickets are $10 in advance or $12 at the door. Tickets can be purchased by calling 913-284-9074.