Chieftain softball lands 2 Tonganoxie players on Lawrence Journal-World All-Area Team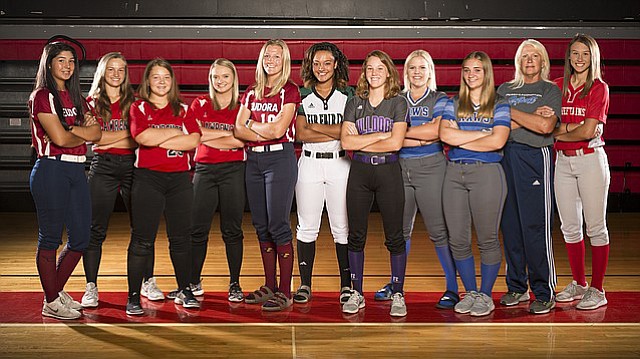 Tonganoxie again made the regional finals in softball under Stephanie Wittman. The team reached the championship after an uncanny seven-run rally for the 7-6 victory against archrival Basehor-Linwood before dropping a heartbreaker to Piper in the championship.
The softball squad landed two players on the all-area squad: Makenzie Sample and Lauren Gray.
Player of the Year
• Megan Fast, Perry-Lecompton — Named second-team all-state by the Kansas Softball Coaches Association, Fast was equally dominant at the plate and pitching circle. When the junior was pitching, she had an 11-0 record in the regular season with an 1.88 ERA and 67 strikeouts. In the batter's box, Fast hit .603 with five home runs and 32 RBI, leading her team to state for the first time since 2008.
Coach of the Year
• Jill Larson-Bradney, Perry-Lecompton — The Kaws returned to the Class 3A state tourney for only the second time in school history, taking fourth. Perry-Lecompton, which finished with a 22-4 record, won 14 games by mercy rule.
First team
• Makenzie Sample, Tonganoxie — Leading the THS to a 16-6 record, the junior third baseman hit .333 with seven doubles and 15 RBI. Sample earned second-team all-Kaw Valley League honors, the third straight season she's received all-KVL recognition.
• Lauren Gray, Tonganoxie — Only a freshman, Gray led the Chieftains in several offensive categories including batting average (.611) and hits (44). A versatile fielder, added 10 doubles, three homers and 19 RBI.
• Mayah Daniels, Free State — The FSHS standout signed with Highland Community College. She received a first-team all-Sunflower League nod as a utility player. She was strong in the middle of the lineup with a .459 batting average, 28 hits, 23 runs, 14 RBI and 14 walks.
• Kyla Etter, Eudora — A talented pitcher, Etter recorded a 7-4 record with a 2.32 ERA and 92 strikeouts in 81.1 innings. Earning second-team all-Frontier League honors, Etter, who ranks second on the school's all-time strikeout list, hit .387 with five doubles and 13 RBI.
• Jordan Flakus, Eudora — Flakus earned first-team All-Frontier League honors after hitting .527 with nine doubles, four homers, 14 runs and 22 RBI. Headed to Fort Hays State, Flakus only struck out once and didn't commit an error at first base.
• Annie Grammer, Lawrence — Helping the Lions to a 10-10 record, the senior shortstop registered a .338 batting average with three doubles, 17 RBI, 19 runs scored and eight stolen bases. She signed with Wayne State.
• Sieana Hall, Baldwin — Named first-team all-state in Class 4A, the junior outfielder led the Bulldogs with a .521 batting average, 15 extra-base hits and 25 runs. Guiding her team to an 11-8 record, Hall added 22 RBI and posted a .570 on-base percentage.
• Karly Johnson, Lawrence — Johnson completed her freshman season with first-team all-Sunflower League honors. She hit .474 with 28 hits, five doubles, 17 runs and 22 RBI.
• Kampbell Kilburn, Lawrence — One of the most consistent hitters in the Sunflower League, Kilburn posted a .562 batting average with 27 hits, six doubles, nine walks and 14 runs scored. The sophomore center fielder earned first-team all-league honors, adding a .620 on-base percentage.
• Harleigh Robertson, Perry-Lecompton — During the regular season, the senior St. Mary signee hit .613 with 16 home runs and 67 RBI, receiving first-team all-state honors.
Honorable mention
Zoe Brewer, Lawrence; Lydia Brown, Eudora; Sarah Cory, Lawrence; Delainey Fenoglio, Tonganoxie; Audrey Flowers, Baldwin; Abbi Folks, Perry-Lecompton; Rian Gere, Baldwin; McKinley Markley, Baldwin; Cassidy O'Connor, Perry-Lecompton; Devin Purcell, Eudora; Emma Stanwix, Free State; Chloe Taylor, Lawrence.