Baseball wish upon a star in Tonganoxie
Local youth to play baseball on national stage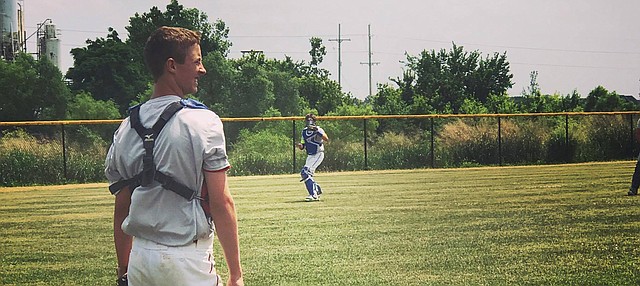 A soon-to-be Tonganoxie High School freshman will be playing baseball on the national stage next month.
James Eaton will compete for the 13-and-younger USSSA All-American Central Region team Aug. 6-12 at Walt Disney World's ESPN Wide World of Sports complex in Orlando, Fla.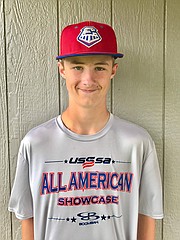 Eaton was one of nearly 800 youths who tried out in a six-state region. He made the cut of the top 28 for the squad.
He also plays on the Express Baseball Club competitive AAA team with coaches Gary Wagner and Jeremy Wagner, a father-and-son duo. Jeremy also played baseball at THS. Beth Eaton, James' mother, said the Wagners have been "paramount" in James' baseball success.
Eaton has always been a catcher, but he also is doing some pitching now.
Off the field, he's interested in earth sciences and wants to be a meteorologist.
As for his favorite Major League Baseball player, Eaton said his top player is Miami right fielder Giancarlo Stanton. Eaton said he likes Stanton because he hits "dingers" and works with Ichiro Suzuki, whom Eaton argues is one of the best hitters of all time.
Eaton will be up the road from the Marlins players when he's in Orlando. He is focused on baseball, as he's most looking forward to "meeting and playing with other good baseball players and playing on the ESPN Wide World of Sports Field."
With his selection to the all-American team comes expenses.
He learned in June that he made the team, so his family has been trying to raise money in recent weeks to pay for transportation, lodging, food and other expenses heading to and from Florida.
Eaton will be organizing a fundraiser later this month outside Brothers Market. A car wash will run 10 a.m.-2 p.m. July 29 in the grocery store's parking lot.
And, anyone wanting to assist with Eaton's trip can visit his Go Fund Me page, gofundme.com/jamesroadtotheshow.
As of Tuesday, people have given $500 toward the family's $4,000 goal.