Tonganoxie City Council primary election voter's guide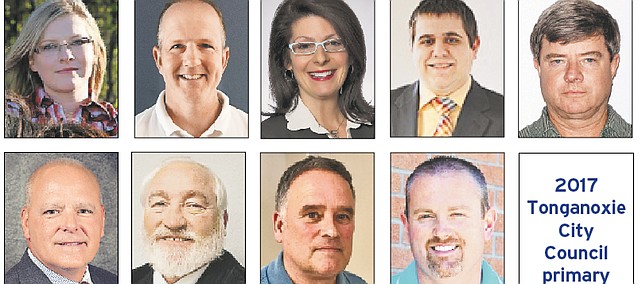 Editor's note: The Mirror emailed questionnaires to all active candidates in this year's Tonganoxie City Council primary. Candidates are listed in alphabetical order by last name. Additional candidate responses appear on page 4A. Rachell I. Rowand has dropped out of the race, she told The Mirror last week, as her residence likely won't be annexed into the city anytime soon. Ballots already have been created, so her name will still appear.
CHRIS DONNELLY
Occupation: President/CEO of Bank of the Prairie
Age: 56
Education: BS Business Administration from Oklahoma State University
Political experience: 8 years as City Council Member with the City of Tonganoxie, Served as a member of the City of Tonganoxie Planning Commission, City Treasurer for the City of Hobart, Oklahoma. Appointed by the Governor to serve on the Board of Directors of the Kansas Finance Development Authority and the Kansas Housing Resources Commission
Why I'm running: To assist in the continuation of the positive momentum and quality growth of Tonganoxie
Community experience: As stated previously, I have 8 years of experience as a Tonganoxie Council member, was a member of the Tonganoxie Planning Commission, a previous President and board member of Leavenworth County Development Corporation, Past board member of the Tonganoxie Chamber of Commerce, current member of the Sacred Heart Church. Member of the Tonganoxie Civic Club.
Top three challenges facing the city and how you would address them: 1.) Maintaining the quality of life we all enjoy on a limited City Budget. 2.) Maintain public infrastructure including streets, sewer and water. 3.) Maintaining the safe and peaceful community we have been blessed to live in. All three challenges can be managed by administering the City's limited budget properly. The City has a very delicate budget where funds are precious. The City Council should always remember that Citizens of Tonganoxie fund the City budget through a series of taxes and fees paid water, sewer and other services. Balancing the income (taxes and fees paid by the people) and expenses of the City is the number one job of the Council. Over taxing the people could lead to loss of population and under taxing could lead to problematic infrastructure short falls. Growing the tax base is the best way to maintain a proper balance of taxes and fees. Also finding ways to promote quality job growth where people could work and live in Tonganoxie is another critical component of widening the tax base.
Top three things you see as the city's qualities: First, the way of life is a wonderful aspect of our community. In Tonganoxie you know your neighbors and you can feel safe walking down the streets day or night. Second, the location of Tonganoxie allows for the Citizens to live in a rural community but have quick access to many amenities. Thirdly potential. Few cities in Kansas have the opportunity for quality growth in both residential and commercial development and for job growth. Tonganoxie is one of the few cities in the State that can say they have a large industrial park that is open for business. Through the planning and team work of the City and County, Tonganoxie's industrial park gives us an advantage when courting new businesses to move to the area to create jobs and increase tax base. In the near future, we will see years of hard work and dedication to grow home grown jobs come to fruition. This is all because the foresight of many local people who came together to find a way to create opportunities for our community.
ANDREW T. (ANDY) GILNER
Occupation: Retired earlier this year after serving as a Tonganoxie High School teacher for 39 years and 41 overall. Driver's education teacher for 37 years who also coached football, basketball and baseball at the high school level.
Age: 67
Education: Associate's degree from Allen County Community College and a bachelor's in education (political science and history) from Pittsburg State.
Political experience: 7 years on Tonganoxie City Council
Why I'm running: I want to continue to give back to my home community of Tonganoxie. I want to continue the work that our current City Council has initiated and follow through with many projects.
Community experience: In addition to time on the council and service in the Tonganoxie school district, Little league coach for several summers, American Legion baseball coach, participated in Mayor's Christmas Tree Lighting ceremonies and PAT Christmas programs.
Top three challenges facing the city and how you would address them: In my opinion, there is one major challenge — our infrastructure and how to rebuild and upkeep it without having to increase taxes. Concerns involve water, sewer, roads and bridges. All need to be upgraded. It is a constant concern as to where and how to get the funds to keep up with our infrastructure.
Top three things you see as the city's qualities: People and Location, location and people and people and location. I have felt since moving here 40 years ago that the community has always been a caring and giving community.
Everyone is always willing to help their neighbors. Our location is in the middle of so many positives: close to Kansas City, Lawrence, Topeka, many colleges and universities, close to a major airport, T-Bones, Chiefs, Royals, Sprint Center, Children's Mercy Park, Kansas Speedway, etc. There's something for everyone.
AW (ROCKY) HIMPEL
Occupation: Retired as general manager of Century Building Solutions after 37 years of employment.
Age: 64
Education: Tonganoxie High School graduate who also took criminal justice and business law class at Highland Community College
Political exeperience: Multi-term city council member, multi-term zoning board member and mayor for the city of Oskaloosa.
Volunteer service: Former adjutant of American Legion Post 36, served on the Old Settlers Committee, Jefferson County Memorial Park Board Member. Building inspector, part-time and Habitat construction committee member.
Why I'm running: Having been raised in Tonganoxie and upon moving back, I felt I had a responsibility to give back to the community. Growing up in this community has helped shape my principles and values that have guided my life. I think my political experience from a neighboring city demonstrates my commitment to take an active part in Tonganoxie government and the community.
Top three challenges facing the city and how you would address them: Every city has challenges. The repair of existing streets and adding curbing and sidewalks where needed is a concern. The city of Tonganoxie needs to allocate and give a greater priority to funding these projects. The city should also research possible grants that could help fund improvement projects.
Another project that needs to be addressed is to make sure that the existing water and sewer system can support any new or future projects or developments. We can't expand business development or housing if we don't have the infrastructure needed. Research and testing need to be done to determine the capacity and pressure levels.
It is one of my priorities to examine the city's budget and determine if any changes or adjustments need to be made.
Top three things you see as the city's qualities: Location — The proximity of Tonganoxie to larger cities such as Lawrence, Kansas City and Overland Park provides the citizens the convenience of short drives for work and the benefit of enjoying and living in a small town atmosphere. People - We have a very welcoming community. Townspeople are supportive of their neighbors and the community. They are supportive of their school system and anyone in need.
Local businesses – Tonganoxie businesses are active in the community. Business owners and employees continue to support local schools and organizations.
RYAN KELTNER
Occupation: Associate pastor
Age: 41
Education: Piper High School, Kansas City Kansas Community College for an associate's in business and then Global University.
Political experience: No former political experience.
Why I'm running: My family and I have fallen in love with this community. I feel that I have a lot to offer the community as we plan and make decisions for the future of Tonganoxie.
Community experience: In my 12 years in Tonganoxie, I have helped plan several community events from end of summer bashes, bike shows and a health fair. For the last several years, my wife and I have helped fill and organize school supplies for the needy families in our community and throughout our church. I have organized the food and helped grill some hot dogs and hamburgers for a couple of Team Tongie events.
Top three challenges facing the city and how you would address them: 1) Amenities — We need hotels, entertainment, and some more dining options where people can have a nice dinner with a steak or Italian. Most of our community is traveling east or south of Tonganoxie to accomplish this purpose. We need to market Tonganoxie better as a community. That means all of our community organizations need to work together to make this great community better. More businesses in Tonganoxie means more money for the city. 2) Budget — We need to make sure that the financial decisions that are being made for Tonganoxie are keeping our finances stable for the years to come, as well as providing for the needs of all the city departments. 3) Marketing — I feel more businesses and people need to know what Tonganoxie has to offer. We have great organizations here like TBA and the Chamber of Commerce that can help market Tonganoxie, but they can't do it alone.
I feel we need our citizens to take more pride and ownership in this great town. They have friends and family all over that need to know about Tonganoxie Days, St. Patrick's Day parade, the Mayor's Christmas tree lighting, Spooktacular and yes we still do a homecoming parade through our downtown, but most of all they need to know about the great little shops, bakery, and event spaces available as well as the vacant buildings available for other businesses.
Top three things you see as the city's qualities:
1) The people, because we are a small town close knit community who loves their town. 2) Location. I think our location is a big positive for our community. We are just minutes away from Kansas City and Lawrence and have great access to highways 3) Schools. I feel we have great schools. It has had it challenges through the years, but I believe the teachers and staff truly care about our kids.
JENNIFER KOHL
Occupation: Police sergeant
Age: 32
Education: Prior attendance at Quincy Senior High School Class of 2002; attended Kansas City Kansas Community College and graduated in 2015 with an associate's degree. I am currently attending Columbia College where I am studying public administration with a minor in business.
Political experience: I have 10 years of government employment via working in law enforcement. My grandfather was county treasurer in Adams County Illinois, which sparked my original interest in politics and government. My father-in law served as district attorney of Leavenworth County for 25 years.
Why I'm running: I believe that everyone should be a part of something bigger than themselves. By being a part of the city government, I can do just that. I feel it is very important to be involved in our local government and help make the decisions that lead to prosperity, growth and success for the city of Tonganoxie.

Community experience: I am new to the city of Tonganoxie; however, I look forward to becoming as integrated into the community as I can. I participate regularly in animal rescue and charity events and hope to bring that with me here.
Top three challenges facing the city and how you would address them: 1.) I know employee retention may be an issue in certain departments. I feel this could be handled by addressing the issues that are pushing employees to seek alternative employment. Police retirement is another thing I see as an issue. The PD has been denied requests in the budget for KPNF retirement, from what I have researched and been advised. Every department in the county utilizes KPNF and I believe this is part of the reason for Tonganoxie being a foot in the door for officer's rather than a lifelong career destination. Altering the KPERS to KPNF will enhance retention and make it a more desired destination for employees in the TPD, as well as benefit those already there. To remedy, I will push for further research into KPNF and what can be done to change from KPERS. 2.) Another problem I have seen residents frustrated with while campaigning is issues regarding animal control. I think that an easy solution would be to challenge an implementation of stronger enforcement efforts in maintaining leash laws and safety for all the community pets and residents alike. 3.) I also have taken note that there are not many options for higher priced homes in the area. There are many mid-range homes for sale in the area, but no areas I have observed offering 300+ thousand dollar residences. In my opinion, by pushing for development of higher cost homes, it will open up the community to a new group of citizens who would otherwise already be living in the area. People want to live in Tonganoxie, but will not move if there are no homes available in the higher budget they are looking for. They remain and continue to move to other nearby cities that offer the homes that are priced on the upper end of the spectrum. It's worth researching people's wants versus what's offered. Offering higher end homes also increases tax revenue.

Top three things you see as the city's qualities: By seeing 10 people in the race for city council, it shows that citizens care about their community and the direction it is taking. I love that the city of Tonganoxie is progressive and growing. Tonganoxie has a lot of great land and great folks building it into a place everyone wants to be.
JAMIE LAWSON
Occupation: Police detective, Lawrence Police Department
Age: 45
Education: Tonganoxie High School grad.
Political experience: N/A
Why I am running for city council: I have lived in Tonganoxie since 1979. My wife, Amy, and I have been married for almost 25 years and have two children, Lauren and Taylor. Tonganoxie is our home and I care about the development and growth of this community. Although my political experience is limited, I have an extensive background in public service. This has taught me to listen to understand, be decisive, mediate conflict and continually be creative in finding equitable solutions.
Community experience: Volunteer work with Tonganoxie High School, Genesis Christina Academy, and area wide clean up functions. Blue Santa of Lawrence. Previous employment with Tonganoxie Police Department/Leavenworth County Sherriff. Currently employed as a Police Detective with Lawrence Police Department.
Top three challenges facing the city and how you would address them: 1) Creating a fair budget that balances quality of life issues and infrastructure needs. Some of the city's debts, which have been a burden to the budget, are set to expire in the near future. It will be important have a clear vision moving forward of how to prioritize the city's needs and remain steadfast in keeping our expenditures within the budget.
2.) Growing our tax base. The city council is tasked with creating policies that have a direct impact on the growth of our community, whether that is in the form of tax abatements and incentives, or offering amenities to the Tonganoxie residents. When these policies focus on making sure Tonganoxie is an attractive place to work and live, businesses will be drawn to our community, offering jobs for residents and tax revenues that can be put back into our community. 3) Maintaining an attractive and welcoming community. We have some blighted properties within the community, which reduces the attractiveness of our city. I will study the ordinances that exist and the tools the city has to engage it residents, while dealing with blight issues. I will continue this as a priority discussion with the council.
Top three things you see as the cities qualities: 1.) We have a dedicated volunteer's base who contribute a generous amount of time and money to support both city and school functions of those in need in our community. 2.) We have attractive parks, walkable trails, a top-notch swimming pool, and other amenities, activities and offerings that make Tonganoxie a great place to live. 3.) We are positioned in a growth corridor with easy access to the I-70 interchange. This puts Tonganoxie in an excellent position to be attractive for industrial growth.
LORALEE STEVENS
Occupation: Twenty-five year career in higher education, currently working at Johnson County Community College as a business liaison consultant.
Age: 48
Education: I am a proud Tonganoxie High School graduate, class of 1986. I earned a bachelor's degree in sociology from Baker University in 1990 and a master's degree in counseling from Emporia State University in 1992. While working full time as director of admissions at JCCC, I earned my doctorate in educational policy and leadership from KU in 2005.
Political experience: Neighborhood association president, Brookcreek neighborhood, Lawrence 2005, Community Development Block Grant committee in Lawrence 2004-2005. Professionally elected offices: President of the Great Plains Association for College Admission Counseling 2004, President of the Kansas Association of Deans and Directors of Continuing Education and Community Services 2013-2015, and member of the National Alliance of Concurrent Enrollment Partnerships board from 2014-2016.
Why I'm running: As a home-town candidate I have a personal interest in seeing the community thrive. Through the values instilled in me by my dad, Dr. Phil Stevens, being able to serve the community of Tonganoxie would be an honor.
Community experience: I am an active member of the Tonganoxie Business Association, member of the Tonganoxie Chamber of Commerce, member of the Tonganoxie Historical Society, fledgling small business owner with my husband Mike, Boy Scout mom for Simon and proponent of shopping local.
Top three challenges facing the city and how you would address them: 1) Attracting new industry and retaining current industry to help boost economic development. Attracting new industry to town involves addressing multiple employer concerns which include infrastructure, labor, workforce training, and amenities for their employees. Having been involved in these types of endeavors as a professional, I see the value in Tonganoxie's location and relative value. In my job I find myself interacting with start-up businesses and entrepreneurs. These young and energetic folks are eager to find affordable locations to launch their ideas and businesses. Tonganoxie could be attractive to more start-up companies, in addition to the successful ones already thriving here. Sharing the Tonganoxie story with the metro-wide start-up community would be one low-cost way to spread the word about what the community has to offer.
2) Balancing multiple budget requests with limited budget resources. This challenge requires input from the community, thoughtful planning, and creative problem-solving using low-cost or no-cost solutions. One specific way to address the need for increased community input: neighborhood associations could increase communication and also help Tonganoxie maintain the small town feel as we experience growth. Every aspect of the community can express their needs in a neighborhood association, not only those who can access Facebook or other on-line forums. Neighborhood associations help bring people together in person and build relationships with meetings, community service projects, and social events. These groups can bring collective concerns forward, representing all areas of the city.3) Ensuring the downtown continues to rebuild and become an attraction. Consider the successful ways local businesses have already started hosting downtown events like trick-or-treating, parades, and planting flowers. How can we continue to harness resources for small business development? The Tonganoxie Business Association and others community leaders are already working to beautify the downtown, share best practices, co-promote happenings, etc. Supporting these efforts and identifying additional low-cost efforts to bring citizens to downtown and (eventually) to the new library will help bring attention to the heart of our community. Hosting a business expo, career fair in conjunction with the high school, and/or identifying a current location to serve as an informal welcome center could all be small steps to bring more citizens and others downtown.
Top 3 things you see as the city's qualities: Quaint downtown on its way to become the hub of activity it was in the past. A truly dedicated community of generous leaders and volunteers. Great place to raise a family!
Michael Towle
Occupation: Finance manager for Edgehill Venture Partners, a private equity firm in Overland Park
Age: 29
Education: Masters of Business Administration from William Woods University
Political experience: None
Why I'm running: When my wife and I were looking for a new place to call home and raise our family, we had heard of Tonganoxie and wanted to drive through town to see what the talk was all about. We drove down 4th Street on a Saturday and immediately my wife and I were impressed with the small-town feel. After getting moved in I decided that I wanted to get involved and use my experience and fresh ideas to help the city flourish. I went and talked to people in the community and learned about the Tonganoxie Civic Club. This club welcomed me with open arms and that is what got me hooked. Sitting around listening to some of the most influential leaders in Tonganoxie, I realized that the love these residents have for their town runs deep. Listening to their stories I realize that, like them, I am not looking to just be a resident in this great town. I want to make a difference and help our great city prosper and grow in these exciting times. I decided to run for city council because I believe I have a lot to offer in experience and ideas and I would like to help Tonganoxie be the best it can be.
Community experience: I have been involved with the Tonganoxie Civic Club and the Tonganoxie Civic Club Golf Tournament.
Top three challenges facing the city and how you would address them:1) Tonganoxie needs an affordable place for residents to meet, exercise, and spend time with family and friends. With the new funding for the Tonganoxie Library, there is a chance to incorporate a new Community Center in with the library. A Community Center could offer the residents in Tonganoxie several things including a fitness center, meeting rooms, a computer lab, and possible basketball courts. These things would benefit the residents greatly as it would give residents access to educational, social and recreational activities that would be tailored to what members of the community are interested in. 2) A second challenge I think Tonganoxie is currently facing is the lack of residents buying goods and services in Tonganoxie. I don't believe residents are currently aware of all the great things Tonganoxie has to offer and I believe it is something that city council can assist with. Driving down Fourth Street it is hard to tell which businesses are open and which buildings are vacant. I believe city council should assist business owners in securing funds to give Fourth Street an updated look. I believe we can keep the historic feeling on 4th Street while at the same time rejuvenating the outside of the businesses. By doing so I believe we can help re-introduce residents to what this town can offer and draw more people to visit our historic downtown, 3) Another challenge that Tonganoxie faces is bringing business to the North and Northeast side of Tonganoxie. Over the last few years the new construction around the Stone Creek and Jackson Heights has been growing tremendously. It is time to start working on the infrastructure for the North and Northeast side of Tonganoxie to grow as well. I believe we can do this by talking with residents to find out what businesses they feel would benefit our community, then help stimulate the businesses to move into these areas. I believe the we should focus on what our residents would like to see first before trying to bring in businesses. In this way, you would have residents who have helped create the community they want to live in.
Top 3 things you see as the city's qualities: As I mentioned above, Tonganoxie has a great, small-town feeling. It is one of the main reasons my family lives in Tonganoxie and I want to make sure we keep and protect this environment. I believe we can continue the environment that has been created in Tonganoxie as we establish more growth. This growth comes with the restrictions that we only add businesses that represent Tonganoxie and satisfy the needs of the community.
The Tonganoxie City Council, Mayor and Planning Commission have done an amazing job getting the industrial park set up and bringing in new businesses.
Bringing in these new businesses will help Tonganoxie not only generate more revenue but also help residents who are looking for work. The best thing anyone can do is follow the plans that have been laid out to continue to improve this part of the community.
Another great quality I see in Tonganoxie is the leadership and drive all the way from the Administration to the Planning Commission.
I don't believe you see this type of passion in most other towns. The City has put together a great team that is pushing Tonganoxie to plan not only for the future but also take care of the quality services that Tonganoxie offers. They are creating a welcoming environment for all residents and I believe they are doing a great job in trying to push Tonganoxie into the future. Looking at the candidates running for City Council you can tell that the people in this community want Tonganoxie to succeed and I don't believe you see this in most communities.
Jim Truesdell
Occupation: Bridge design engineer
Age: 64
Education: Graduated from Washington High School in Kansas City, Kan., in May 1971; bachelor in civil engineering and general physical sciences at Kansas State University in may 1979; and masters' in civil engineering in December 1997. Registered professional engineer in Kansas, Missouri, Oklahoma, Mississippi, Louisiana, Ohio and Wyoming.
Political experience: Tonganoxie City Council 2005–present (Council President 2010-2016), infrastructure committee Leader, led the eight-person committee to build Tonganoxie's new water park, which is now paid for. As part of the infrastructure committee led the effort to get a sidewalk on Washington Street.
cdvc Tonganoxie has a new city manager and I would like to help in his transition. Tonganoxie has just passed a new 20-year sales tax and I want to help assure that we get funds allocated from that tax to improve our infrastructure.
Community experience: Tonganoxie USD 464 Building Committee 2000-2003, Tonganoxie USD 464 Bond Issue Campaign 2003-2005, Leavenworth County Sales Tax Extension Campaign 2004-2005, Tonganoxie Planning Commission 2003-2005.
Top three challenges facing the city and how you would address them:
One of the biggest challenges that the Governing Body faces is involving the community in the process. Whether through televised council meetings, formal social media activities or some other method, we must be proactive informing the community regarding the issues and getting the community involved in our decisions.
Tonganoxie has several million dollars of infrastructure improvement needs (Church Street corridor and bridge replacement, Fourth Street bridge repairs/replacement, 12th Street/East Street improvements at the grade school and middle school locations, East Street Corridor, drainage and sewer improvements just to name a few) with limited funds to address these needs. I will work with the Governing Body to prioritize the improvements and find the necessary funding.
Tonganoxie has invested several million dollars into our industrial park and we need to attract businesses to realize the benefits of those investments. I believe that we have made a good start with the hiring of our new City Manager who has a strong background in economic development. I will work with the Governing Body to support our City Manager in attracting businesses to the industrial park.
Top three things you see as the city's qualities:
Our city employees are our greatest asset. We have passionate volunteers but we need more community involvement. We are a small-town friendly community.