Good as gold for Tonganoxie High track standout as Chieftains earn multiple medals;
MHS

also competes at state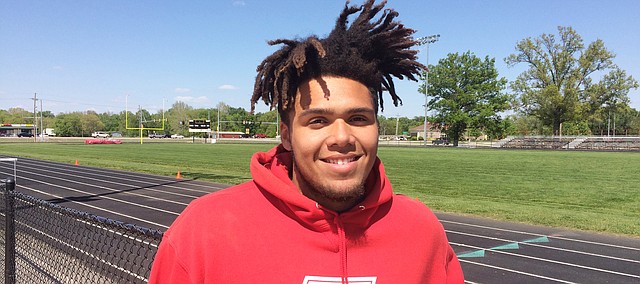 Tonganoxie High has a state champion in track and field.
THS junior LeeRoi Johnson won gold in discus Friday, finishing with a throw of 180 feet, 3 inches and capping off one of the top discus seasons in the country this past weekend at the state track and field championships at Cessna Stadium in Wichita.
Teammate Kyle Snyder, also a junior placed 13th with a 131-9 throw.
Johnson continued to break his own school record throughout the season in the discuss and climbed in the national rankings. He finished in the top 25 nationally among high school throwers.
Johnson also finished third in the shot put with a throw of 54-0.5.
Piper senior Micaiah Noel won gold with a 56-4.5 throw. Hays senior Shane Berens was right behind for second with a 56-3.5 distance.
The girls team had a productive weekend, placing in both of their events.
Corrin Searcy placed fifth in the 400 with a time of 59.82. Maize South senior Kassidy Johnson won the event in 58.15.
The THS girls 4x400 team finished fourth in the preliminaries and then won bronze in the finals with a time of 4:07.03. Senior Emily Chambers, juniors Sierra Staatz and Mia Bond and Searcy combined for the hardware.
THS senior Drew Cook placed ninth in the 800, finishing with a time of 2:01.66. Paola senior Matthew Wilson won the race with a 1:55.77 time.
The Chieftain girls placed 15th with 12 points; the THS boys were 13th with 16.
McLouth at state
Ceara Funk placed 14th in the 3,200 in Class 2A. The junior finished with a time of 13:34.26.
MHS junior Jenna Johnston placed 15th in the 100 metro hurdle prelims (18.16), but didn't advance to the finals.
Sophomore Sarah Dailey placed eighth in the shot put (36-0).
Dimitri Tullis placed eighth in the boys 400 finals. The junior finished in 53.74.
He also placed seventh in the long jump (20-4) and won bronze in the triple jump with a 43-3.75 leap.
That was 2 inches behind champion Chandler Stiawalt, a senior from Ness City.