Tonganoxie Recreation Commission gearing up for Saturday's 50-year celebration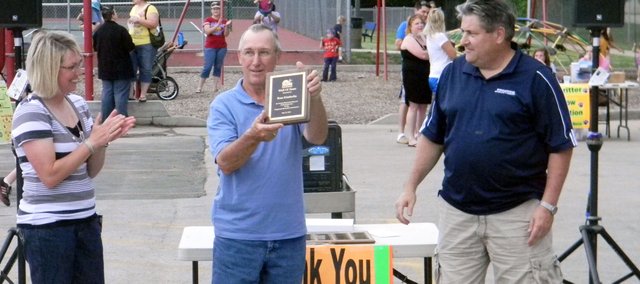 Tonganoxie celebrated a big milestone last year with a sesquicentennial celebration.
For a third of that time, there also has been a Tonganoxie Recreation Commission.
TRC will celebrate 50 years with its annual summer kickoff Saturday.
Assistant TRC Director Brad Eccles said the first summer kickoff took place in 2006 with the organization's inaugural Wall of Fame ceremony. TRC honored the original five board members that night.
This year, on June 3, in addition to free hot dogs and drinks, the Wall of Fame Ceremony and the Silly Critter Pet Show, the Kona Ice Truck will set up 5-6 p.m. for free snow cones.
"We also have several other activities for kids that are still being finalized," Eccles said.
According to Eccles, TRC originated in the 1960s when resident Don Huebner was visiting a town out west where he saw some baseball fields.
He asked around about how the town was able to pay and operate their program.
"He brought this knowledge home and began recruiting a team of volunteers to go to work on how to make it happen in Tonganoxie," Eccles said.
TRC started as a summer baseball program, but slowly started offering other sports through the years, such as soccer, basketball and flag football most recently.
Through the years the commission added other non-athletics programs. Offerings now include, fitness, art, dog obedience, foreign language classes and more.

Also, TRC hosts special events in addition to the Summer Kickoff such as the Easter Egg Hunt and the Ice Cream Social in August.
The organization was all volunteer until the 1990s when Mark Zerrer was hired as TRC director. Current director Gayle Parker has been the commission's only other director, while former assistant directors were Paula Bollinger and former Emporia High and current Shawnee Mission East football coach Dustin Delaney.
TRC currently maintains seven baseball/softball fields and Chieftain Park. TRC also has an agreement with the fair board to maintain some of its grounds where TRC currently has seven soccer fields set up in addition to the soccer field at Chieftain Park. The commission's biggest programs are soccer and baseball/softball, with 300 youths playing spring soccer and some 600 youths expected to play summer ball.
Wall of Fame listings can be found at TRC's website, tongierec.org.
This year's TRC Wall of Fame inductee will be Larry Meadows, who was instrumental in the development of Chieftain Park and was heavily involved in the Digger Dan event in previous years.