Tonganoxie City Council to have 10-person race, primary Aug. 1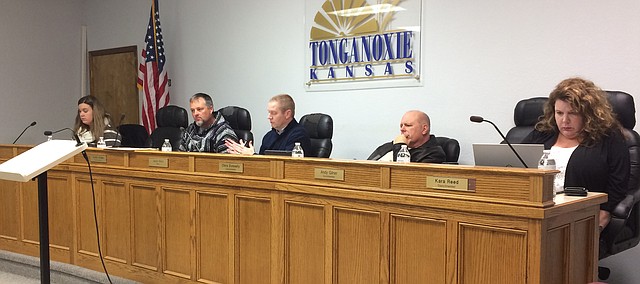 Incumbents will join seven challengers also vying for their seats in a Tonganoxie City Council election that will require a primary.
The 10-person field will have a run-off Aug. 1 for the at-large seats.
Incumbents are Chris Donnelly, Andy Gilner and Jim Truesdell. Challengers are AW "Rocky" Himpel," Rachell. I. Rowand, Ryan Keltner, Jennifer Kohl, Jamie Lawson, Michael Towle and Loralee D. Stevens.
For USD 464, there are three seats open, two of which will be contested.
James N. Bothwell and Stacy Willis have filed for Position 4, while incumbent Phillip Welsh, Karen K. Wake Bottary and Rowand will vie for Position 5. Chris Gratton is the lone person to file for Position 6.
Board vice president Dan Hopkins is not seeking re-election for Position 4, nor is Kris Grinter in Position 6.
Welsh is seeking his first full term, as the board appointed him to Kay Smith's unexpired term last year.
County Clerk Janet Klasinski said residents can serve on school board and city council concurrently, as Rowand has filed for positions on both governing bodies. However, she currently lives outside city limits, so if she were to win a City Council seat, she would have to move within city borders before taking office.
Business park concerns
Mary Gergick voiced concerns about work at Tonganoxie Business Park, where Unilock will be the first tenant at the site.
A neighbor to the 200-acre undeveloped park, Gergick was concerned about heavy equipment going up and down Kansas Avenue, a dirt and gravel road. She also said she and others in her family, which has had members living in the rural setting since 1967, have work schedules that require quiet in the morning. Gergick was upset about equipment running at 7 a.m.
She said contract workers told her they could adjust their schedule per the city's direction. Assistant City Manager Jamie Shockley noted that was the schedule of Tonganoxie Public Works employees and there is some overlap of them being on site.
City Council members said they'd work with the construction company to see what could be done.
Also during the meeting, the council:
• Approved retail sales of fireworks for Rockstar Fireworks and Garret's Worldwide Enterprises.
• Approved Ordinance 1424, approval of preliminary development plan for Tonganoxie Business park.
• Approved final plat of Tonganoxie Business Park and accept land dedication for public purposes.
• Approved adoption of a housing needs analysis and designated legal descriptions of property proposed to be designated as a rural housing incentive district within the city of Tonganoxie.
• Approved final plat for Timber Hills No. 4 and accepted dedication of land for public purposes.
• Tabled an agreement with landowners in the 200 block of Whilshire Drive. After lengthy discussion, the Council tabled the decision in hopes that an agreement could be made with the homeowners.
All approvals were by 4-0 votes. Curtis Oroke was absent.