Tonganoxie Days returning with run milestone, more attractions in festival area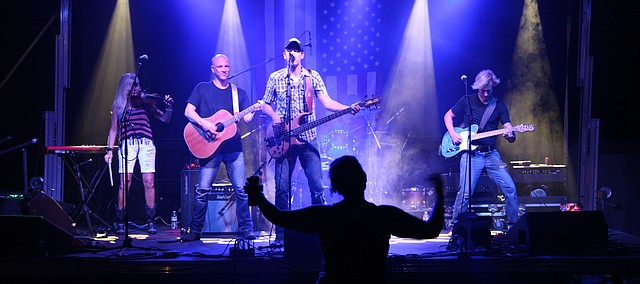 Tonganoxie might not be celebrating a big birthday this year, but there is a milestone at this year's Tonganoxie Days.
The 30th annual Tonganoxie Public Library Run/Walk will start at 7:30 a.m. Saturday at the library, 303 S. Bury St.
Proceeds from the run after expenses go toward the new library fund and summer reading programs.
Tonganoxie Days Lineup
SATURDAY
7:30 a.m.
• Tonganoxie Public Library 5K and 10K Run/5K Walk at the library, Third and Bury streets
8 a.m.
• Tonganoxie Car Show at VFW Park. The show runs until 4 p.m.
9 a.m.
• Kansas Miniature Horse Show at Leavenworth County Fairgrounds (also taking place Saturday)
10 a.m.
• Pinewood Derby, Third and Delaware streets
11 a.m.
• Appearances by Big Jay and Willie the Wildcat (One hour. Highland Community College's Scottie Dog mascot also expected to make an appearance during the day)
• Welcome from City Council Member Kara Reed
• American Legion flag ceremony
• Food trucks open
11:20 a.m.
• Jukebox Zeroes on festival stage
12:30 p.m.
• SnakeDog on festival stage
1 p.m.
• Graves Talent Dance Studio performance
1:30 p.m.
• J Love Band on festival stage
2 p.m.
• Cake walk
4 p.m.
• Rusty Laffoon on festival stage
6:30 p.m.
• Elton Dan on festival stage
9 p.m.
• Perpetual Change on festival stage
SUNDAY
• Tonganoxie Days BBQ Contest at Tonganoxie City Fire Department
About 200 have signed up for the run so far.
"We're ahead of where were last year," said David Frese, run director since 2014.
Participants can register before the race Saturday, but Frese said organizers prefer that they do so early.
Early packet pickup is 3-7 p.m. Friday at the library. People also can register during that time.
Frese said about $30,000 has been raised heading into this year's since 2014.
"The generosity of the business community and library supporters has been outstanding," Frese said.
Links to run/walk registration can be found at tonganoxielibrary.org.
If the run/walk's not your speed, visitors can cheer on participants along the run, which starts and ends in the downtown area.
Another mainstay starts at 8 a.m. with the annual car show at VFW Park. Classic vehicles roll in and are viewable under the shade of numerous trees at VFW Park. The car show runs until 2 p.m.
At 10 a.m., Boy Scout Pack 3075 will have a Pinewood Derby at Third and Delaware streets.
The Tonganoxie Days BBQ Blowout gets started Saturday and concludes Sunday.
All of those activities add to the main Tonganoxie Days events running from 11 a.m. to 11 p.m. at Gallagher Park and the surrounding area at Third and Main streets.
Children's rides and games again will return from the Sesquicentennial celebration a year ago.
Mascots Big Jay and Willie the Wildcat again will be on hand, while the Highland Community College Scottie Dog mascot also is expected to make an appearance.
An inflatable game that's a life-size version of Hungry, Hungry Hippo and a mechanical bull are two new attractions.
And then there's the food. This year's Tonganoxie Days will feature 13 food vendors for visitors, along with six bands playing throughout the day Saturday on one stage.
"A lot of hard work is happening behind the scenes to make Tonganoxie Days a success this year, and I'm really looking forward to all of the fun activities we have planned, said Jamie Shockley, assistant city manager and festival committee member. "Tonganoxie Days offers fun for the whole family, and I look forward to seeing our residents and visitors at the festival Saturday."
Like last year, the festival will have a beer garden.
Visitors will be able to purchase beverages there and the Myers Hotel Bar and roam throughout the festival grounds, as Main Street will be closed from Second to Fourth streets and boundaries will be established. Third Street also will be blocked off at Delaware Street.
The American Legion will conduct a flag ceremony at 11 a.m. near the stage, with local bands Jukebox Zeroes and SnakeDog to perform after that.
J Love Band, which performs soul, R&B and Motown sound, takes the stage at 1:30 p.m.
Rusty Laffoon, who brings a soulful edge to country music, will perform at 4 p.m.
Elton Dan and the Rocket Band keeps with last year's lineup of a tribute band, as the group covers Elton John. Elton Dan hits the stage at 6:30 p.m.
And the last band of the evening is Perpetual Change, which recreates sound from the 80s and 90s with some 00s and original songs sprinkled in.
Other activities planned are a cake walk, Tonganoxie High School cheerleader balloon toss and a performance from the Graves Dance Studio.
Tonganoxie Water Park will be open regular hours also.
Admission to Tonganoxie Days is free, though donations can be given at the various inflatables and other attractions.
For more about the event, go to tonganoxiedays.org.
To get updates in advance and during the festival, follow @tonganoxiedays on Twitter and use #tonganoxiedays with your photos from the event.