Tonganoxie High classmates headed to Washington,
D.C.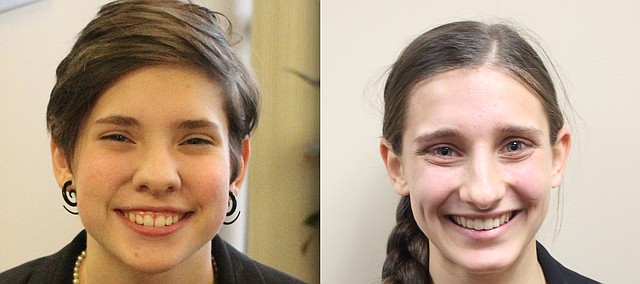 Allison Williams and Sierra Staatz, both seniors-to-be at Tonganoxie High School, will tour the nation's capitol with 38 other students from Kansas and Hawaii for KEC's 57th Annual Electric Cooperative Youth Tour, June 8-15 in Washington, D.C.
FreeState Electric Cooperative selected Williams and Staatz from a group of high school students.
To win this trip, students were asked to compose an essay about cooperative engagement, as well as go through a personal interview.
"FreeState is proud to support the Youth Tour program every year," said Steve Foss, CEO. "Our hope is that these student leaders will gain some awareness of the cooperative business model, how our political system works, and why it's important is it for youth to be involved in our community."
The students will start the trip in Topeka with a banquet before flying to Washington, D.C. where they will join with more than 1,800 high school students from 43 states. Students will get to experience government in action through a scheduled meeting with congressional representatives and by attending educational seminars. They will also visit the Holocaust Museum, Smithsonian museums, Fort McHenry, Library of Congress and various memorials throughout D.C.
FEC sponsors the trip of two high school students each year.
For more information, contact Sarah Farlee, FEC Youth Tour Coordinator or visit freestate.coop.
With more than 14,800 member-owners and more than 20,700 service points, FreeState Electric Cooperative is the largest rural electric cooperative in eastern Kansas and the fifth largest rural electric cooperative in the state of Kansas. FreeState Electric Cooperative is the result of a member vote to consolidate Leavenworth-Jefferson and Kaw Valley Electric Cooperatives on April 19, 2016.
FreeState serves nine Kansas counties (Leavenworth, Jefferson, Shawnee, Douglas, Jackson, Osage, Pottawatomie, Wabaunsee and Atchison) and provides infrastructure to Fort Leavenworth. For more information visit freestate.coop.
Follow them on Twitter (@freestatecoop) or on Facebook.