Remember When: A Community Review for June 14, 2017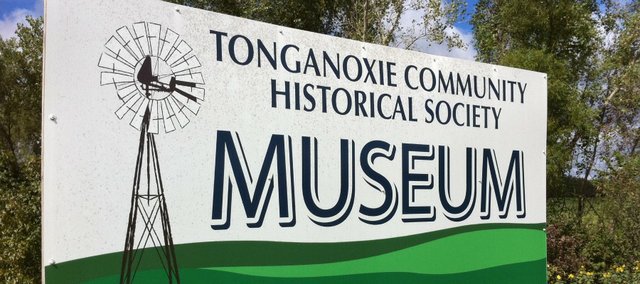 10 years ago: June 13, 2007
Kevin Freeman and his daughter Makayla were pictured as they worked to capture a swarm of 15,000 bees that settled on a dogwood in the Paul Mast home.
For 22 years, residents and area vendors have converged along Fourth Street to participate in Tonganoxie Days. This year's annual festival drew crowds to the downtown area, the fairgrounds, and the VFW Park. Thirty two contestants competed to be the winner at the Barbeque Competition (certified by the KC Barbeque Society) held at the fairgrounds. Michael Seymour, park ranger at the Fort Larned National Historic Site, led a discussion about historical weapons, dating from the 1760's to 1987.

25 years ago: June 10, 1992
The seventh annual Tonganoxie Days kicks off on Saturday morning with a 10K and 5K fun run sponsored by Friends of the Library. The annual parade will begin at 10 a.m. traveling west on Fourth Street for everyone to enjoy. Starting at 10 a.m. and going until 2 p.m. KLWN will sponsor a barbeque cook-off, awarding prizes to the top three winners and a people's choice award.
Tonganoxie Days Rodeo scheduled for Friday and Saturday nights, June 12 and 13.) Come out and support the professional cowboys and cowgirls competing for championship points and become a part of the wild west action that rodeo provides.
50 years ago: June 8, 1967
A recent storm had generated tornado warnings resulting in all fire department members showing up at the firehouse until it passed per standard procedure.
The Mirror did a cover story about the Reno Cemetery Board's improvements such as a brick cemetery marker, driveway, shrubbery, a flag pole, water tank with faucet and ornamental fencing around Reverend Kelsall's grave, and a 100 year old tree within the manicured grounds.
Westinghouse window air conditioners were advertised by Korb Electric that also included central air units with easy terms.
Bonner Springs reported a loss in population by 346 people, bringing the new count to 3,549 which included a set of triplets.
The Sutton-Kolman Mustang's baseball team lost to the Olathe Rebels in the first game of the season, but keep in mind there had only been 2 prior practice sessions. 
75 years ago: June 18, 1942
James Jeannin found himself in a bad situation this week when he was accidentally pinned under his tractor. With no help to be found, he used his faithful dog to relay a message to the family. Mr. Jeannin tied his work shirt to the pup and sent him on his way to the house. Sure enough, help arrived and he was rescued. James is at home recovering and will be back to work soon.
Gambrill's gas station on Fourth Street has a ladylike edge now that Miss Mildred Duncanson started working there. Many strong women are stepping up and taking on jobs vacated by the men who are off to war.
June brides are allowed to purchase a new gas range or water heater if they do not already have one. Families must fill out paperwork and can have a brand new appliance in time for the newlyweds.
Kansas Electric Company knows that the United States production of electricity is more than enough to keep Hitler, Hirohito and Benito awake at night. Actually, the U.S. has more than the three dictators and the conquered countries combined. Thanks to our businesses and owners!
More of our local young lads have been assigned serial numbers in the draft registration. Klinkenberg, Landauer and Sparks to name a few.  
Heard on the street:  Jeannie says "Would you come to my aid in distress?"  Joe replies, "It wouldn't make any difference what you were wearing!" Ha! Ha!
100 years ago: June 14, 1917
Pouring the big concrete tanks at the mill began Tuesday morning, and is being kept up day and night. Work must never stop on the pouring or the tanks will not be cast in one piece. The forms have been built in one piece, and are steadily raised by a force of men as the concrete is being poured. A number of jacks are used for raising the forms. Work at night is being done under electric lights. It will take several weeks to get the tanks to the required height of 80 feet.
The Royal moving picture house has been closed. The city passed an ordinance Monday night, making the license fee on moving picture shows $75 a year. J.W. Evans, the manager, has decided that the license with the proposed federal taxes will be more than the business can stand, and he can better afford to shut up than to run.

Mr. and Mrs. H.E. Cockrell, of Jarbalo, were in town Tuesday. Mr. Cockrell stated that the wheat had come out greatly the past few weeks and that the work on the high school is progressing rapidly.
Mrs. George Seufert has been afflicted with rheumatism lately and she left with her husband Monday for Rosedale, to try some water at that place. If she finds no improvement, she will go to Excelsior Springs.
The resident engineer to superintend the construction of the water system is F.J. Mathias, who arrived Monday. He will be here a couple of months. Three car loads of water mains arrived from Birmingham, Ala., last week, and have been distributed along the streets. Several other cars are on the way. The machinery for doing the construction work has been shipped and will be here soon. Drilling on a ten inch well will begin at once, 190 feet east of the six inch well that will be used, the water from which made such a fine analysis. Both wells will be used.

125 years ago: June 16, 1892
Tonganoxie will celebrate! McKeehen's grove will have a picnic in its cooling shades!
Tonganoxie is busily engaged in making preparations for the picnic and will have speakers, plenty of music, contests, fireworks, and many other things that will be announced in our next issue. Come from every point of the compass! The invitation is open to all regardless of creed, color or sex.
City Affairs. This is the time of year when council meetings fizzle out, but our city "dads" were all present Monday evening last, and stayed at the city hall until midnight.
Sidewalks were ordered built on the west side of Green street from Second to Fourth and on the west side of Main street from Second to Fourth. A petition was presented asking that the established grade on Fourth street be changed. The petition received a favorable consideration by a vote of three to two.
A spirited discussion took place over the sewerage and drainage question and there was a very stringent ordinance presented regulating their construction but it was not passed.
The proposition to pay the city marshal a decent salary, made its annual appearance. But the old salary remains the same as yet.