KC

's got the Beat, thanks to Tonganoxie High teacher
THS

instructor's informational video about Kansas City history goes viral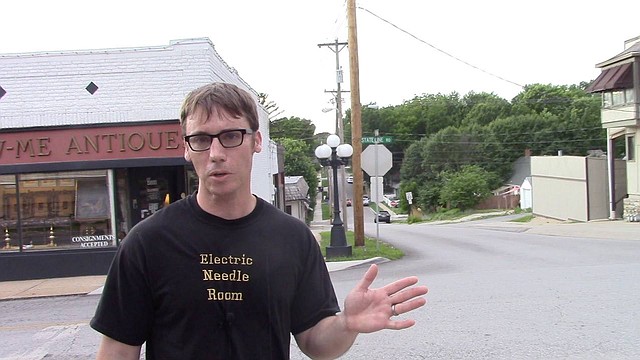 Matt Beat has written a song about every former U.S. president.
In 2016, he unsuccessfully started a petition at whitehouse.gov to interview President Barack Obama for his song.
Though his "signatures" fell well short of the required 100,000 mark, Beat's latest YouTube video may well be on its way to that level in social media views.
Beat, a Tonganoxie High School social studies teacher who lives in Lawrence, posted his latest video, which answers the age-old question, "Which came first: Kansas City, Kan., or Kansas City, Mo.?"
Interestingly enough, it actually is Kansas City, Mo., but the video can fill you in on the particulars.
Posted a week ago, the video had about 500,000 views on Facebook in the first couple days. His YouTube count, meanwhile, has surpassed 28,000.
Beat actually wrote a 30-page paper in graduate school at Emporia State University about why videos go viral. He found that red arrows are common theme for some viral videos.
He tried red arrows pointed at KCK and KCMO. Sure enough, it went viral on Facebook and he received his best response for a single video on his YouTube channel.
"Red arrows to a border," Beat said with a laugh. "I don't know what it is."
Beat said he's always been curious about the KCK/KCMO storyline. One of his professors at the University of Kansas, James Shortridge, had written a book about the neighboring cities.
"I'm surprised by how very few people knew about that," Beat said about each Kansas City. "I've been thinking bout making it (the KC video) for years."
Beat also has made videos about various Supreme Court cases and other notable happenings in history.
He said he mostly focuses on American history these days for his video, as that's what he teaches at THS.
"The music videos are the ones they pick up the most," Beat said about his students learning through his videos. "It gets stuck in their heads."
Students even have made cameos and helped with lyrics. Most recently, they assisted with a video about McCarthyism and the Red Scare of communism. The music is a parody of Carly Rae Jepson's "Call Me Maybe."
It also stars the THS teacher's brother, Steven Beat. Together they form the band Electric Needleroom, which will be performing at the sixth annual Lawrence Field Day Fest. They perform at 6:45 p.m. July 13 at Jackpot Music Hall, 943 Massachusetts St. in Lawrence. He said the duo might even perform his President Obama song.
In the classroom and on YouTube, Beat tries to make the videos engaging.
He said there are college classes that show the best ways to make educational videos.
For instance, he cited a class at ESU that teaches a new concept — putting a word on the screen after it is said rather than simultaneously. He said studies have shown the concept is more effective for learning and retaining certain information.
"It's kind of amazing," he said. "There's kind of an art to it."
Beat has been making the educational videos for five or six years. He admitted some of those first creations were a bit rough.
"I should probably take them down," he joked. "I'm not sure how educational it is. At least they're entertaining, I guess."
Overall, several videos also have covered world history, geography and social studies along with American history, as those are the various courses he's taught.
Beat uses the videos as a teaching tool in class often. He joked that his students can get tired of the videos. But he also finds that triggering some laughs can be effective.
"If I add some of my humor into it, a little bit of a sense of humor, that kind of helps, too," Beat said.
To check out Beat's YouTube channel, go here.
To visit the Kansas City video, click here.
­­— Shawn F. Linenberger, news editor at The Mirror newspaper of Tonganoxie, can be reached at 913-845-2222