On to Dodge for Tonganoxie High standout Lee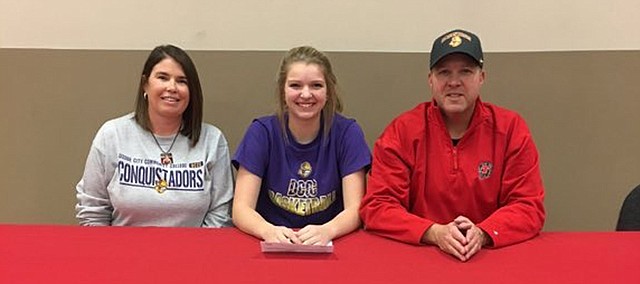 Taylor Lee will be traveling to the opposite corner of the state to continue her basketball career.
But it's a familiar face on the open plains that played into her major decision.
Lee, a Tonganoxie High standout who just graduated in May, decided earlier this year to sign with Dodge City Community College for basketball.
"I decided to choose Dodge because my coach from AAU was an assistant at Dodge," Lee said about DCCC assistant Sta'Nisha Garlington . "I really enjoy her as a coach. She taught me a lot of things. I would like to continue to work with her."
Lee said she also liked head coach Zach Loll, who recently took over at Dodge City after several successful seasons at an Illinois community college.
"He just came there two years ago and he seems like he's a good coach," Lee said.
The THS graduate heads out west after a successful three-sport high school career.
She also played volleyball and softball, helping the Chieftains to back-to-back state appearances in volleyball and a string of regional runner-up finishes in softball.
Lee said she had aspirations of playing softball in college, but it shifted along the way to basketball.
She set school records from for three-pointers in a game, a season and a career.
She also set the school record for points in a game with 40 against Bishop Ward early in her senior campaign this past December.
In April, Lee competed in the Sports Highlights Unlimited Kansas City All-Star game at Basehor-Linwood High School.
Her Kaw Valley League all-star squad lost the game, but she connected on two three-pointers and finished with 11 points.
She won the 3-point contest over her all-star teammates from the KVL and opponents from the Kansas City Athletics League.
In the three-point contest, Lee made 15 out of 25 three-pointers in the first round, which advanced her to the finals.
She made 14 three-pointers in that round. Each competitor had 75 seconds to shoot 25 shots from various spots on beyond the three-point arc.
"I was so excited because I was working so hard in the driveway and at the gym," Lee said about her three-point practice. "I would go to Rock Chalk Park for at least two hours and shoot and shoot and shoot.
"Winning it was so much fun. It was nice going through all that work and then it pays off. Hearing the Tongie student section cheering for you. It's a cool moment I'll never forget."
For postseason accolades, Lee was a two-time Tonganoxie Invitational all-tournament first-team selection, all-KVL first team the past two years and Lawrence Journal-World all-area selection.
She also made all-state teams in the Topeka Capital-Journal and Wichita Eagle.
Lee also had a college offer from a local school. Kansas City Kansas Community College offered, but Lee opted for an adventure five hours away than just down the road.
The THS graduate also could provide immediate help for the Conquistadors, as Dodge City Community College went 4-27 last season.
But it also was the first year for Loll, who previously went 146-70 in seven seasons at Wabash Valley in Mt. Carmel, Ill., where he was conference coach of the year four times and led the team to a Sweet 16 appearance at the national tournament. He also had four Great Rivers Athletic Conference titles.
DCCC also just opened a new basketball facility, the multi-million dollar DCCC Student Activities Center, which has a monolithic dome.
Lee initially wanted to pursue a career as an athletics director, but now is eyeing work as a nurse in a neonatal intensive care unit.
"I don't know what drove me to that. I've always enjoyed helping people and kids."
Lee plans to get her general education courses out of the way in Dodge City and then decide whether she still wants to pursue nursing.
She'll also learn whether she wants to pursue more basketball in two years.
As of now, she wants to head on to Washburn, as both her parents went to school there.