Practicing procedure enhanced with simulator program at Tonganoxie Police Department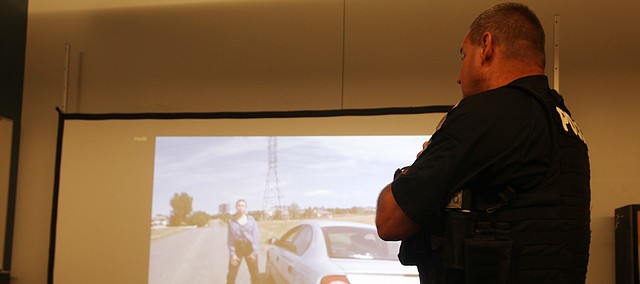 Tonganoxie Police Lt. Jarrod Gill watched Friday as one of his officers tried to stop an armed robbery in progress, handle a disgruntled driver and pursue a school shooter, all in a span of several minutes inside the police station's conference room.
Gill worked with Tonganoxie officers all of last week in simulating various situations officers could face.
Midwest Public Risk, the city's insurance provider, allowed the department to use its $30,000 Milo Range virtual program to help further train officers.
"We're simulating lethal force situations in a controlled environment and we can make those corrections," Gill said. "Or it's praise. Some of them have done really really well."
The program offers 700 different scenarios for officers to encounter. Instructors also implement a "choose your adventure" of sorts with the scenarios. For instance, a traffic stop involving an irate driver could conclude with the driver complying. Or, with the touch of the button, the driver eventually could draw a weapon.
Gill said he had some officers do pushups or run around the police grounds a couple of times to get their heart rates up before coming onto the scene of an incident.
Some of the scenarios officers went through were an armed robbery, disgruntled citizen in a municipal meeting, hospital disturbance, traffic stop with an irate driver, domestic disturbance, apartment disturbance involving a gun, youths who have found a gun on a playground, veteran with post-traumatic stress disorder and a school shooting.
Once the scenarios were finished, Gill debriefed with the officers, as their scenarios were replayed, discussed and dissected. The program also reviewed where exactly all of their shots landed if they used a weapon.
The program also offered target practice on a firing range, something the officers can do at an actual firing range in the area, but ammunition also costs money. Plus, some of the scenarios, a chair serving as a shield or firing from different positions, can't really be conducted on the firing range.
"There's nothing more important than really getting out on the range and shooting live fire," Gill said. "But we can't simulate these with live fire, or certain postures with live fire."
As for the weapons, the program uses a Glock .40 caliber handgun and a taser. Both used lasers, with the handgun having the feel in weight of a standard handgun.
Tonganoxie officer Bobby Knowles said the training was invaluable.
"It could be a million dollars and still be worth it," he said.
Gill met with 14 full-time and reserve officers anywhere from 6 a.m. to 10 p.m. weekdays this past week to ensure all officers could take advantage of the offering. Police clerk Sandy Koontz also went through the training.
Gill even opened up the training to some in the community, such as City Council members and Tonganoxie High School principal Mark Farrar.
The training aren't some "far-fetched scenarios," Gill pointed out.
"They consulted with officers who've done this in active shooting situations," Gill said of the software program. "It's designed with those people's input.
"It gives transparency to what we do."