Rural recycling currently possible through Leavenworth County bins in Tonganoxie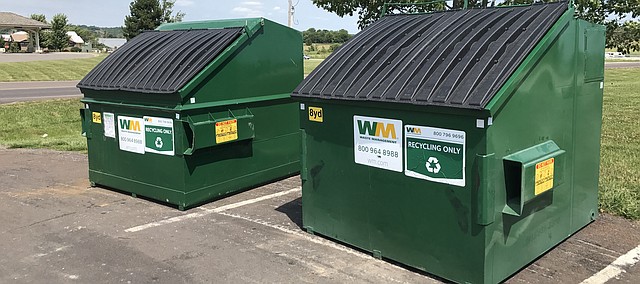 County residents are continuing their efforts to retain a recycling option for rural residents.
Honey Creek Disposal had a community recycyling drop-off location for several years near Triple Creek Realty along U.S. Highway 24-40 in Tonganoxie.
Triple Creek wanted to utilize that property in a different manner earlier this year. In the spring, Honey Creek removed its recycling containers.
The city and school district both looked at ways to offer recycling on their property, but officials determined it wouldn't be practical.
Tabatha Regehr, who lives near Tonganoxie, but outside the city limits, has recycled for years and has inquired with local companies about offering curbside recycling for county addresses such as hers.
"I've been recycling since the days when nobody did it," she said.
Those efforts haven't come to fruition, but Regehr and other inquired about options through Leavenworth County.
County Commissioners approved a recycling bin at the county EMS station at U.S. 24-40 and Laming Road where the County Annex used to be before moving a block north.
The county has added another bin. Recycling is now being picked up twice each week, Mondays and Thursdays, as the county offers the service during this trial period.
"The city has already solved recycling for city service with voluntary curbside," Regehr said, referring to the city of Tonganoxie's opt-in recycling through Honey Creek. "If you start driving recycling somewhere, it negates the benefit. The service needs to be where you live."
The bins can be used for paperboard, brown paper bags, phone books, newspaper, glass bottles and jars, plastic, cardboard and aluminum cans.
Plastic bags, household hazardous waste, tires and yard waste are not allowed.
Regehr stressed that people using the bins provided for county residents to be mindful of putting proper clean recycling in the bins and keeping the area free of clutter.
She has a simple message — flatten and follow — flatten recycling to conserve space and follow the recycling rules posted on the bins.