Name changes, flooding, trees have shaped Linwood in 150 years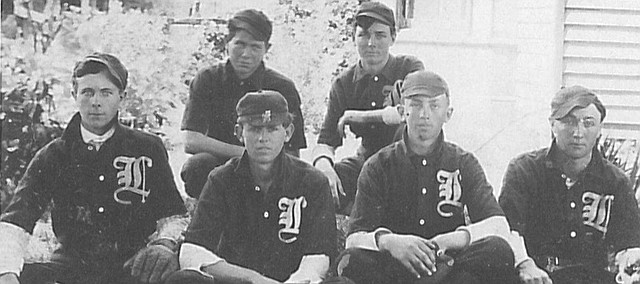 Arlene Pritchard remembers the centennial celebration for Linwood in 1967.
The longtime Linwood resident perused through a local newspaper, the Eudora Enterprise, and all of its coverage of the milestone celebration at the Linwood Pioneer Festival. She recalled the Tonganoxie, Bonner Springs and De Soto newspapers covering the event also. And, an Army band from Fort Leavenworth even came down on a Sunday afternoon in June 1967 to celebrate the milestone.
"What was amazing to me was how many people came back to their hometown," Pritchard said. "Many in the 50s and 60s moved away."
Linwood had 384 residents according to the latest population estimates in 2014. Linwood's highest population was 409 in 1990, according to population.us.
The May 1903 flood causes damage in Linwood. A portion of the community had to be moved because of the flooding on the river.
Pritchard hopes current and former residents can attend the 150th celebration, which starts at 7 a.m. Saturday and concludes at night with a fireworks show. Several events are planned, including some that mirror festival events back in 1967, such as a beard contest, cakewalk and Little Mister and Miss Linwood contest. There also will be a pancake feed, street dance and several other events.
The town is nestled near Stranger Creek and not far from the Kansas River in southern Leavenworth County. Though it's always been a small community, it has plenty of history.
Established June 21, 1867, the town originally was known as Journeycake, named after Lenape Delaware Indian Chief Charles Journeycake.
The town later was called Stranger, because it sits along Stranger Creek. But the name was ultimately changed to Linwood because of a postal conflict with a town called Big Stranger in the northern part of the county.
Historians say the name Linwood was inspired by Sen. William A. Harris because of the numerous Linden trees in the area. Harris served Kansas in the U.S. Congress in the 1890s and unsuccessfully ran for governor in 1906.
Linwood doesn't have an official historical society, but Pritchard has done her part in keeping Linwood's history alive. She updates an area of the Linwood Community Library dedicated to the community's history. The library's website, linwoodcommunitylibrary.org, also has a history page. Pritchard has been happy to travel through the years for historic Linwood items. Trips have even been made to Oklahoma, Nebraska and Missouri to track down items.
The early city originally sat along Stranger Creek to the south and east of its current location, but the flood of 1903 caused substantial changes to Linwood. The flood forced a movement to higher ground and its present-day location. Many homes and businesses were moved to the new site, and still exist today.
Linwood once thrived with banks, grocers, hotels and two rail lines. Like the fate of many Kansas towns, Linwood fell victim to the absorption of larger cities and lost many of its businesses through the years, though the community does have a handful that still thrive Linwood has a K-5 elementary school that is part of the Basehor-Linwood school district. The school was build in the early 1900s.
Businesses currently in Linwood are Old World Cabinets, Redline Auto/Tow, Turf Diagnostics & Design, Timberwood, Inc., G&S Convenience Store, The Hangout, Linwood Development Corporation, Senor Stan's Salsa, pallet sales and automotive repair. Also across Kansas Highway 32 is Free State Growers, a wholesale greenhouse. The town also currently has civic organizations, three churches and a community center.