Kathy's Kottage offers cozy craft opportunities in Tonganoxie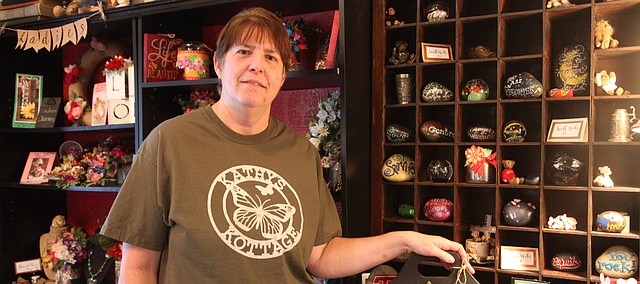 Editor's note: Building activity in and around Tonganoxie has been bustling in recent months. Whether businesses are starting from scratch or renovating existing spaces, Tonganoxie is experiencing new activity. This story is the first in a series of features profiling that business growth in the area.
Kathy's Kottage offers visitors the chance to buy or create crafts and gifts, but the Tonganoxie business also has an international feel.
Kathy Link, who taught second grade at Genesis Christian Academy for nine years, retired from the school in June 2016.
A longtime craft enthusiast, Link wanted to share her craft love with the community.
This past October, Kathy's Kottage opened at 120 Hatchell Road nestled near her home.
Link's husband, Bob, built the cozy building.
Inside, crafts and gifts line one wall. A counter spans the link of another wall — ideal work space for craft classes and a buffet line for small parties. As one walks into the cottage, an inviting sitting area is to the right.
Kathy and Bob both originally are from Ohio and have lived around the world with being a military family.
Bob built the cottage and Kathy decorated it with that international flare — vintage French to be exact. The room is red and black with the fleur de lis adorning curtains and other decorations.
Staying with that international theme, the couple purchased chandelier from the Czech Republic.
The chandelier took some dedication to install. Link joked that the cottage was built around the chandelier. And, in transporting the chandelier from the house to the cottage, a bee stung Bob near his foot. Luckily Bob was OK — and the chandelier was, too. It made it to the cottage in one piece. Crafted butterflies flank the chandelier and can be seen throughout the cottage also.
Link said she's always liked butterflies, so she incorporated them into her building and her logo.
Kathy's Kottage is open 9 a.m.-noon the first Saturday of each month, with local crafters also invited to share their creations. She also offers Ladies Craft Getaway Classes from 6:30-9 p.m. the second and fourth Saturdays of each month and youth classes from 10 a.m. to noon the third Saturday of each month.
She said she's had about 20 classes since opening Oct. 1.
"It's been fun; it keeps me off the streets," Link said with a laugh.
Parties have been popular as well. Kathy's Kottage is available for small showers, birthday parties and so on. Capacity is 18 people in the cozy space.
If customers can't make it to the store during weekend hours, Kathy's Kottage also is open by appointment.
Link said her new business was built to provide a fun, safe and welcoming environment.
"It aims to encourage and inspire people to be able to expand their creativity," she said in a release. "It will develop a community of people who desire to design and produce amazing creations."
Though she's retired from GCA, Link still leads a craft club at the school.
She hopes to continue to get more folks to visit her shop, which is just off the U.S. Highway 24-40 curve in Tonganoxie.
While you're there, you might get the inspiration to make a unique craft of your own. She hopes the decor lends itself to that creativity.
"I wanted it to be homey, antiquey," she said.
For more about the business, visit its Facebook page or go to kathyskottage.net