Trio of medalists for Tonganoxie High wrestling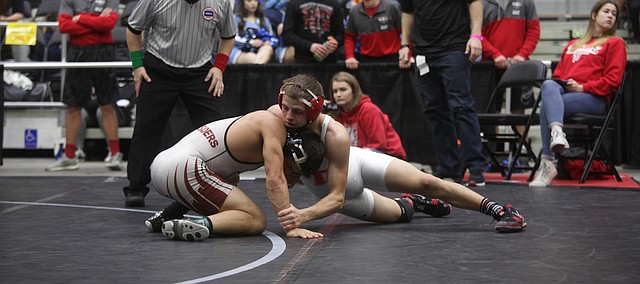 Tonganoxie High got off to a great start Friday in the first day of the Class 4A state wrestling tournament at Salina's Bicentennial Center.
THS, which qualified a school-record 10 wrestlers for state this year, ran into a buzz saw Friday night. The Chieftains had three wrestlers in the state semifinals, but all three lost.
Still, THS, one of four regional champions the weekend before, advanced eight of its wrestlers to Saturday.
Tonganoxie eventually tied a school record for medals at state with three, as the Chieftains finished 12th overall as a team.
Korbin Riedel (132) and Gad Huseman (138) each brought home fourth-place finishes, while Caden Searcy (145) placed fifth.
The top six wrestlers in each weight class are medalists.
Tonganoxie appeared poised to set a school record for highest state team finish Friday afternoon, but Riedel, Huseman and Caden Searcy all lost, keeping them one step short at a shot for individual state titles.
THS finished the state meet in 12th place with 52 points. Bonner Springs, which tied THS for the Kaw Valley League title, placed second with 89.
Abilene ran away with the title with 133 points.
It marked the Cowboys' fourth state title in school history and first since 2003.
"Yeah, overall, we could have done better," said THS coach Ross Starcher. "But it is what it is. You learn from it and build on it for next year."
The Chieftains had hoped to do better, but as Starcher pointed out, the positives also were prevalent.
All three medalists return next year.
Of this year's 10 state qualifiers, nine will be returning next season. Senior Cody Knight (182) is the lone wrestler lost to graduation.
The 2017-18 team could be Tonganoxie's most experienced.
Of those nine remaining state qualifiers, six will be seniors next season.
One wrestler, Gad Huseman, hit the 40-win plateau for the season. He went 41-3. Five THS wrestlers had 34 or more victories on the season; eight had 26 or more victories.
Starcher hopes next year's team can guarantee more wrestlers will have a medal after Day 1 matches.
"You've got to win a lot of matches," Starcher said of fighting back through the consolation bracket for a medal.
Tonganoxie results
Caleb Allen (16-16), L, fall, 1:17, Blake Leiszler, Concordia (34-6); L, fall, 0:38, Chris Ray, Winfield (14-4).

Aidan McClellan (34-7), W, 5-3, Tye Paluso, Chapman (18-8); L, 7-5, Payton Sadowski, El Dorado (21-9); L, 5-4, Michael Daniels, Bonner Springs (33-15).

Korbin Riedel (36-8), W, fall, 0:51, Huntry Schwegman, Chanute (18-13); W, 5-3, Justin Hershberger, Buhler (41-4); L, 3-0, Gunnar Gentzler, Andover Central (33-11); W, 3-2, Cody Withnow, Abilene (31-8); L, 1-0, Hershberger, Buhler (41-4), (fourth place).

Gad Huseman (41-3), W, 5-4, Adler Pierson, Wamego (31-18); W, 6-4, Ryan Adams, Louisburg (25-10); L, 6-4, Austin Eldredge, McPherson (41-3); W, 14-2, Brett Bober, Burlington (43-10); L, 5-1, Levi Green, Baldwin (47-5), (fourth place).

Patterson Starcher (37-7), W, fall, 1:27, Steele Morin, Winfield (8-10); L, 7-4, Colby Johnson, Burlington (41-0); W, fall, 2:01, Gavin Cullor, Prairie View (16-9); L, fall, 1:03), Tssfravis Finley, Colby (38-13).

Caden Searcy (35-12), W, 5-3, Conrad Vajnar, Hays (27-13); W, fall, 3:10, Dalton Barker, Ulysses (19-14); L, fall, 4:26, Anthony Scantlin, Mulvane (42-0); L, 4-2; Zerek Fewell, Fort Scott (24-8); W, 5-1, Lane Payton, Clay Center, (35-10), (fourth place).

Justin Hand (26-7), L, fall, 5:21, Jackson Stafford, Independence (28-15); W, fall, 3:55, Rocky Landwehr, Winfield (27-11); L, Zach Porer, Columbus (26-7).

Devin Duncan (28-12), L, 1-0, Ridge Smith, Columbus (25-9); L, 8-4, Logan Baird, Pratt (33-4).

Cody Knight (29-11) L, 7-4, Ali Viravong, Winfield (22-14); W, 4-2 (SV), Jesse Henry, Prairie View, (28-14); L, 6-1, Aaron Schoemann, Wellington (31-14).

Connor Searcy (14-12), L, 11-0, Anthony Capul (39-0); W, 6-1, Gage Hudson, Columbus (19-16); L, 3-1, Allan Wampler, Smoky Valley, (25-15).
Team scores
(Top 20)
Abilene, 133; 2. Bonner Springs, 89; 3. Andale, 88.5; 4. Clay Center, 79; 5. Andover Central, 73; 6. Pratt, 65; 7. Scott City, 60; 8. Buhler, 59.5; 9. Santa Fe Trail, 56; 10. Colby, 55.5; 11. El Dorado, 53.5; 12. TONGANOXIE, 52; 13. McPherson, 51.5; 14. Basehor-Linwood, 47.5; 15. (tie) Burlington and Spring Hill, 47; 17. Goodland, 40; 18. Clearwater, 37.5; 19. (tie) Chanute and Frontenac, 32.5.