Remember When: A Community Review for March 1, 2017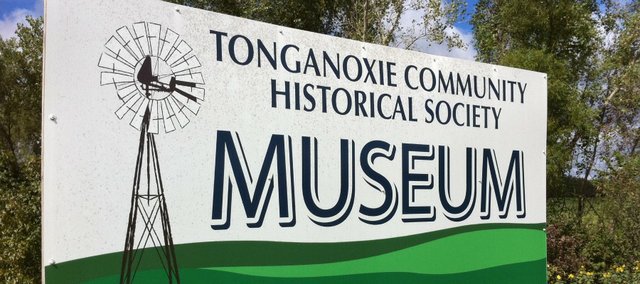 10 years ago: Feb. 28, 2007
Weather has stalled the construction of Chieftain Trail in Tonganoxie. But once the ground thaws, work on the trail will begin in full force. The half-mile trail will extend from Fourth and Main streets to Chieftain Park and also will tie in with VFW Park.
The new branch of First State Bank and Trust is open at 15506 Pinehurst Drive in Basehor.
Seniors Justin Moss and Kaitlyn Saathoff are piloting a Future Business Leaders of America club project in which the 73 members sell organically grown coffees, teas, hot cocoa mix and chocolate bars. The club's plan is to raise funds to benefit two Tonganoxie residents, Sarah Smith and Travis Schultz, who last year were injured in accidents.
Vet-Vax Livestock and Pet Supply, The local source for everything you need for your animals! 1203 U.S. Highway 24-40, Tonganoxie.
Last weekend marked the first time Tonganoxie's new performing arts center was used for a dramatic production. The center was part of the district's $25.3 million construction project.
25 years ago: Mar. 4, 1992
Here we come again asking for participants in the St. Patrick's Parade. Let's make it bigger than ever.
This is the fifth year and it has been fun.
Jessica Fish, 11, a sixth grader at Tonganoxie Elementary School, tied for fifth place in the Leavenworth County Spelling Bee Feb. 27. Jessica is the daughter of Peter and Cindy Fish.
The Tonganoxie School Volunteers will be sponsoring a garage and craft sale Friday, April 3, 1992. The sale will be held in the Upper Elementary Gym. Entrance will be at the northeast door. The craft sale will be from 9 a.m. to 6 p.m. The garage sale will be 9 a.m. to 8 p.m.
The Community Calendar includes more than 25 clubs and committees, including the Community Theater, Genealogical Society, Boy Scout Troop No. 375, Sunflower Quilters Guild, Kiwanis Club, Sertoma Club and the Tonganoxie Jaycees.
50 years ago: Feb. 23, 1967
New natural gas developments a few miles from Easton based on a secured mineral rights leases for 7,800 acres of land will add to the local production capacity. This and other producers will provide 6 million cubic feet of gas per day that could be used for fertilizer manufacturing or piped to the local McLouth storage reservoir.
Bill's Market was advertising glazed donuts for 45 cents per dozen.
The Board of County Commissioner's 1967 road maintenance plan includes work on all 32 county roads that are part of the 170 mile system requiring over 51,000 tons of crushed rock and 321,000 gallons of road oil.
GM and Whitacre Chevrolet promoted the new 1967 Chevrolet Camaro with a half page advertisement in the Mirror.
The Kansas Legislature decided not to balk on daylight saving time, thus avoiding confusion in counties along the Missouri–Kansas border.
75 years ago: Feb. 26, 1942
The surprise attack on Pearl Harbor some eight weeks ago is now preserved on film. The Navy Department has just released the official news reel which is available for movie houses around the country.
By ensuring that American families are healthy, the gas company is recommending numerous techniques for cooking vegetables. This valuable training, provided by Cities Service Gas Company will help our citizens become stronger.
Shop IGA store owned by John W. Mann for All American Values! We stock foods grown in the good old USA.
Chapter AT of PEO entertained state officers this week at the home of Mrs. Dana Sanders. A lovely three-course meal was served on a beautifully decorated table. Relatives of our men in uniform are encouraging all of us to keep writing to the soldiers and sailors. Remember not to share complaints or long tales of woe. These fighting folks need us to keep their spirits up and help them in the battle for our nation.
This is the Golden Jubilee Year of the invention of basketball by Dr. James Naismith. Tonganoxie High School will host Baldwin High School. The net proceeds of this game will be given to the building of a National Basketball Hall of Fame. The picture of our 1942 team will be among those photos displayed in Springfield, Mass.
100 years ago: March 1, 1917
The Carry Nation Memorial Bill, which gave permission for the erection of a drinking fountain on the Kansas Statehouse grounds in honor of Kansas' noted woman prohibition worker, by the Kansas Women's Christian Temperance Union, has been killed by the house committee on public buildings and grounds.
The Union Pacific has planked its crossings on Fourth street to connect with its concrete sidewalks.
Washington, Feb. 24. – Who caused a "leak" in regard to the report of the "leak" committee of the House of Representatives?
Members of that committee were making discreet inquiries today among the newspaper men as to how a synopsis of their proposed report to Congress got out.
125 years ago: Mar. 3, 1892
John Gress has sold his eighty acre farm, located four miles northeast of here to Wm Denholm, at a rate of $40 per acre.
Mr. Gress will purchase another one in the vicinity.
It is customary in this city when a board is destroyed in a side walk to chuck up the void with dirt. Let the practice be carried on indefinitely and walking on a sidewalk in muddy weather will be no better than in the street. The city council ought to appropriate a few dollars for lumber, and instruct the street commissioner to fix up the broken and mud plastered walks.